Keda Suremaker, Ma'anshan, Anhui Prov., China
Indonesian construction market relies on AAC
Loading...
As a worldwide renown autoclaved aerated concrete system solution provider, Keda Suremaker has been deeply involved in the Indonesian AAC market for a long time and has established good cooperation with local leading companies. Keda Suremaker team members have been doing practical research and many technical verifications, they have made targeted adjustments to optimize the differentiated needs of the Indonesian market and customized the equipment to meet the needs of different customers, which has made Keda Suremaker´s AAC plant holistic solution very popular in the Indonesian market.
Consistent customization strategy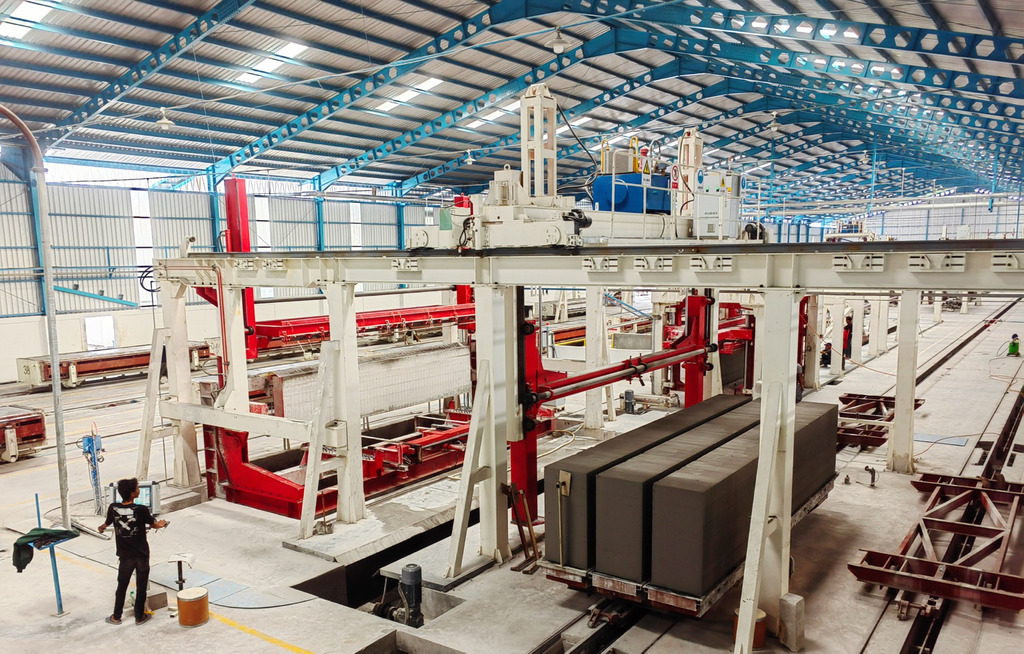 Bricon is an Indonesian AAC manufacturing company established in 2013. The company has factories and offices in several provinces in Indonesia. As one of the top manufacturers of building materials in Indonesia, Bricon's products include AAC blocks, AAC panels, etc. Bricon has a good reputation and market position in Indonesia, and its products are widely used for infrastructure construction, residential and commercial buildings, etc. In addition, Bricon also focuses on social responsibility and is actively involved in local community building and environmental protection. The company works with the local government and charitable organizations to donate and provide aid to disaster areas and help improve the living conditions of local people.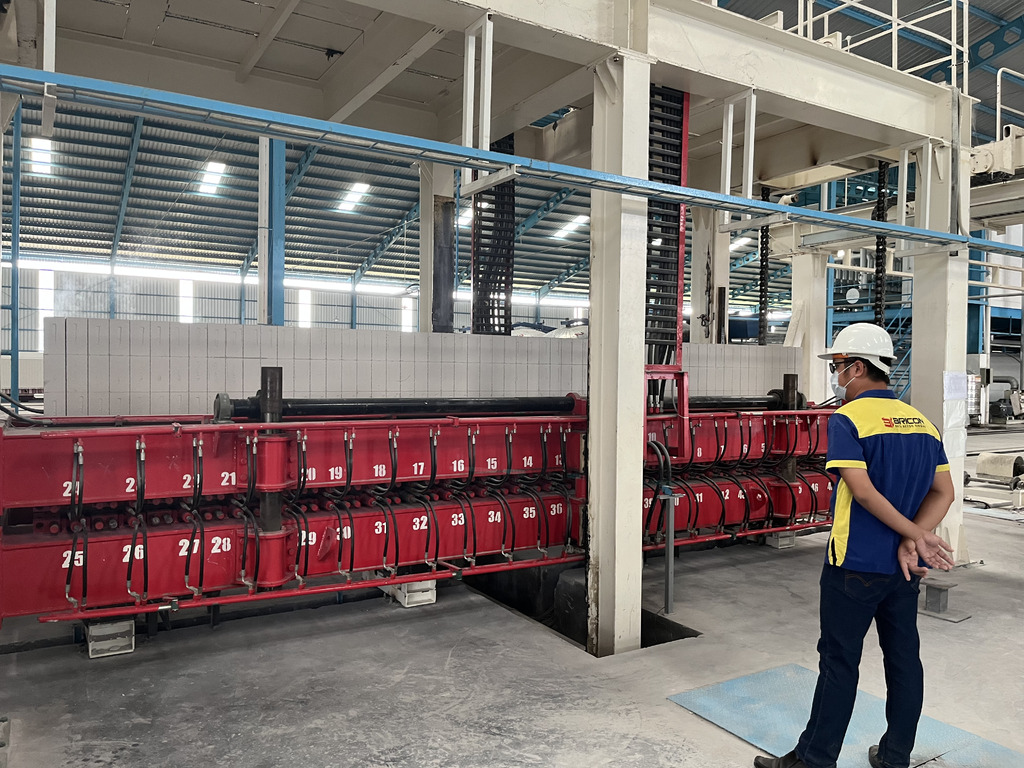 The customer's requirement for the new production line included improving the production speed, so the Keda Suremaker planning team used a double curing room solution for this project. This means that there are two curing rooms, each of them including a separate ferry car. This configuration has shortened the distance traveled by the ferry car and improved the production speed. To facilitate the operation of the machine by local staff in Indonesia, Keda Suremaker has also adapted the machine's operator interface to be multi-lingual, with the addition of an Indonesian language option. The line is now running smoothly, and the customer has provided positive feedback.
AAC plant solutions for large capacity trends
Citicon was established in 2008 as the first to provide producer in East Indonesia to provide quality AAC products and services to its customers through its production facilities and sales outlets throughout Indonesia, positioned to meet the rapid delivery needs of its customers. In addition to this, Citicon is committed to developing and producing more environmentally friendly and energy efficient AAC products with a focus on environmental protection and sustainability. The company uses environmentally friendly production techniques and materials in its production processes, which significantly reduces its environmental impact and makes a positive contribution to sustainable development in Indonesia.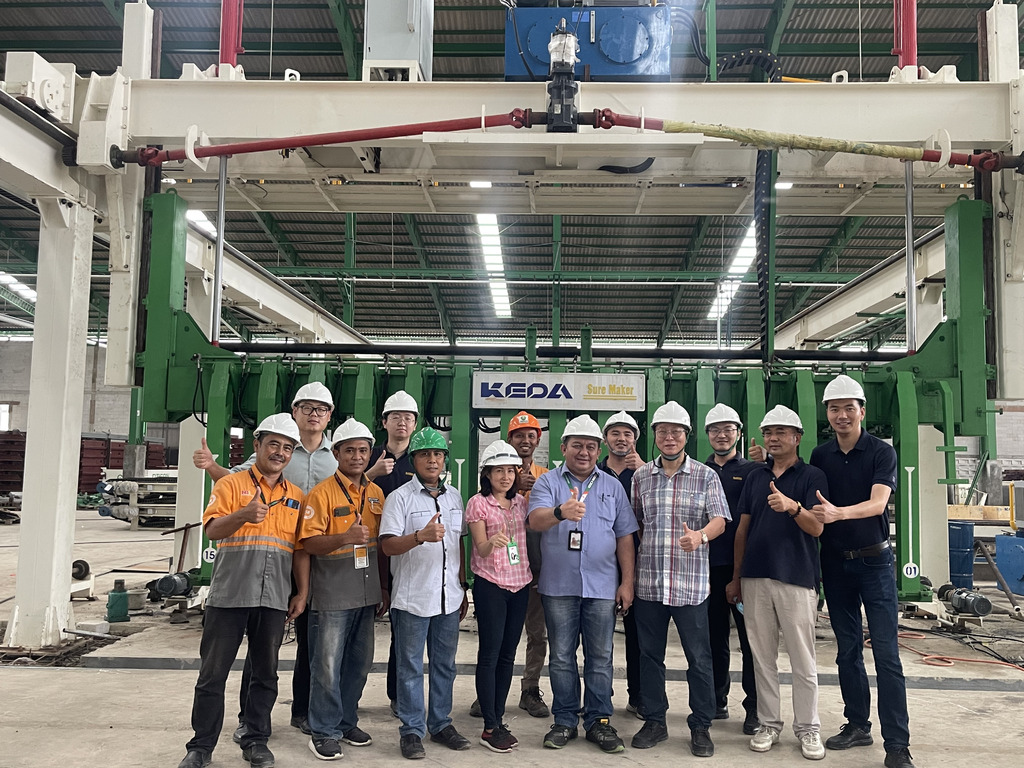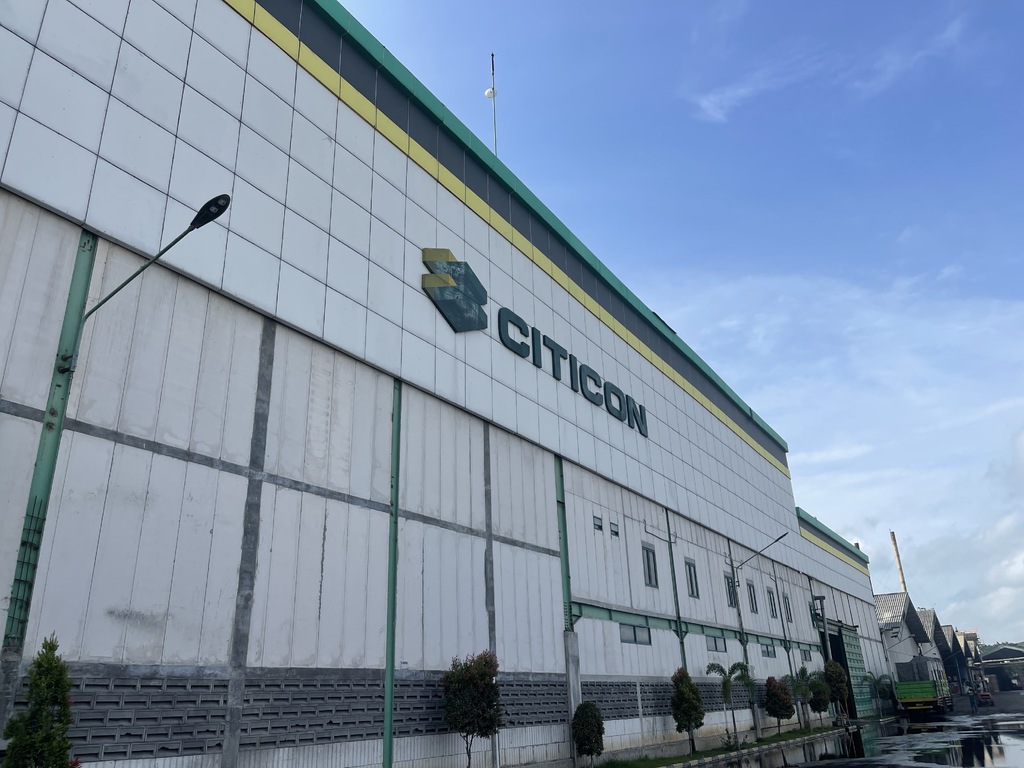 Keda Suremaker understands that customers in different countries around the world have different requirements on AAC production lines, and the Indonesian market is no exception. This market is still dominated by block products and the market is experiencing an increasing demand for AAC products. Increasing production capacity has become a major demand in the Indonesian market. This demand was repeatedly mentioned during the contacts between Keda and Citicon.
In response to this need Keda Suremaker has designed a customized solution for a large capacity production line for customers in Indonesia:
a) Crane-type equipment transport using a rack and pinion drive structure, driven by a servo motor and reducer to ensure accurate positioning with increased speed.
b) The side plate return option has been changed from the original return with the curing car to a separate return.
c) Double stations are set at the bearing position of the side plate, located at the double station semi-product tilting machine. The stacking machine lifts a green cake and places it above the tilting machine. At this time, the tilted green cake is moved to the outside. The stacking machine places the green cake in the tilting position, then moves out and lifts off and removes the tilted green cake. In this way, the tilting machine can work continuously without waiting times, thus improving the operating efficiency and meeting the production requirement of large capacity. The total production efficiency can be controlled within 2.5 minutes.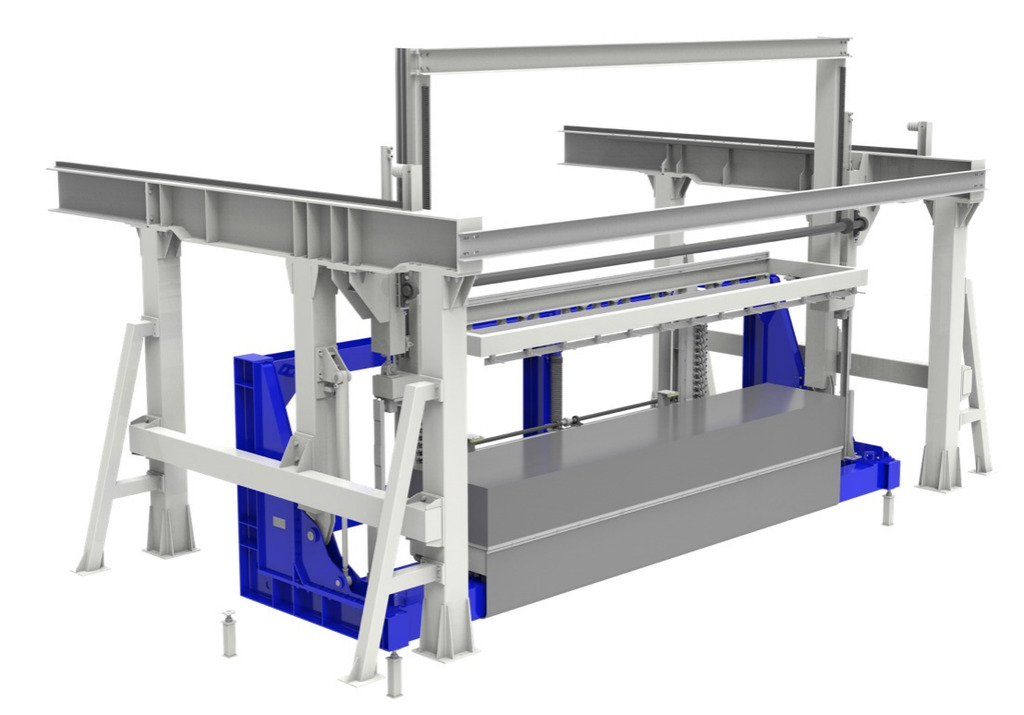 With the above optimization, Citicon's new AAC plant will have an annual production capacity of 600,000 cubic meters of AAC products, giving it an advantage of scale in the highly competitive Indonesian market.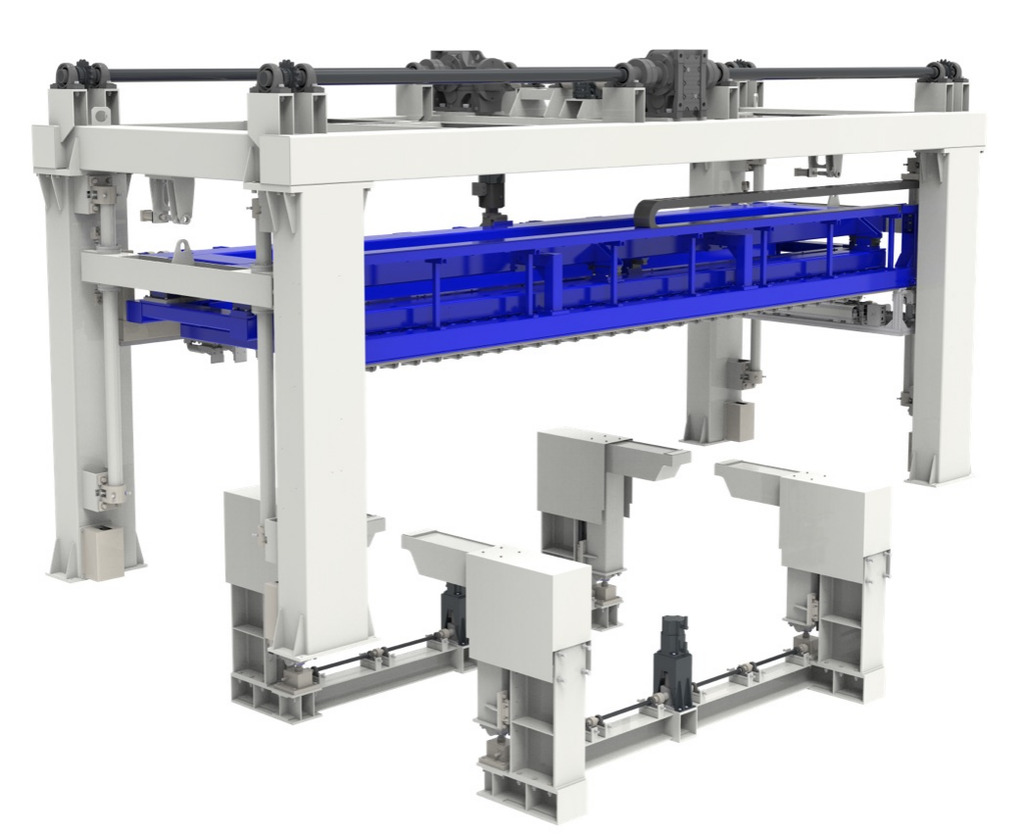 In addition to the optimizations mentioned above, Keda plans to launch a newly designed double cutting trolley mode intelligent vertical cutting machine:
In the cutting line, the side plate with green cake is transported by the cutting trolley. To improve the cutting efficiency, usually two cutting trolleys are used. The side plate containing the green cake is moved from the first cutting trolley to the second cutting trolley so that the first cutting trolley can return to transport the next green cake. The green cake is cut on the second cutting trolley. The double cutting trolley cutting mode has improved the productivity to a certain extent. For AAC projects with higher capacity requirements, Keda Suremaker proposes to place the side plate with green cake on the replacement device, which can jack up the side plate with green cake for cutting and meanwhile the cutting trolley can be changed without waiting, so as to improve efficiency and capacity. The replacement device of the Keda Suremaker vertical cutting machine adopts synchronous lifting devices set on the ground on both sides and adopts the mode of servo motor with transmission box to ensure the synchronization of the side plate lifting. The lifting is driven by a lead screw to avoid uneven supporting points caused by internal leakage of the hydraulic cylinder. During cutting, the dimension accuracy is effectively guaranteed, and the cutting production cycle is reduced to provide customers with high-quality cutting products.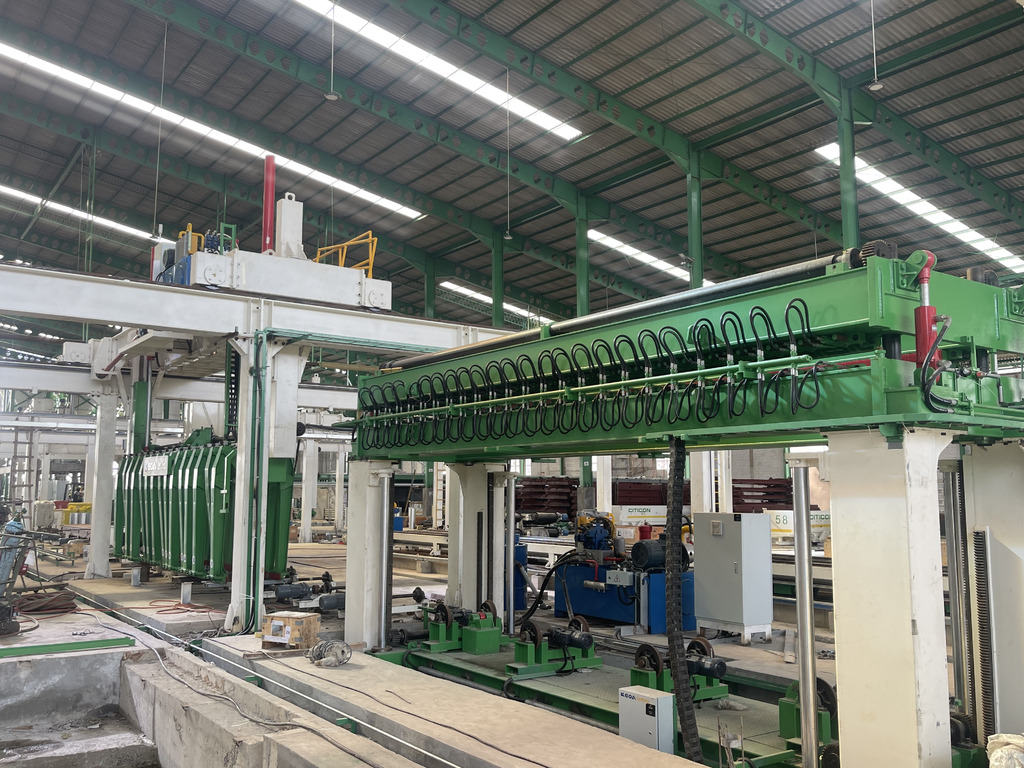 AAC packaging line solutions for the local market
Axel is an Indonesian company established in 2014 and specializes in the production of autoclaved aerated concrete. Axel AAC produces various types and sizes of AAC blocks for use in walls of residential and commercial buildings. Axel AAC is committed to providing high-quality AAC products and excellent service. In addition, Axel AAC offers design, construction, consultancy and technical support services to meet the needs of its clients. The company is actively involved in sustainable building projects in Indonesia and provides AAC products and solutions that meet green building standards. The company is also actively involved in sustainable building projects in Indonesia and provides AAC products and solutions that meet green building standards.
Axel's partnership with Keda Suremaker began with a customized packaging line. The customer's original production line did not have the automatic packing section and relied on manual handling, which was inefficient.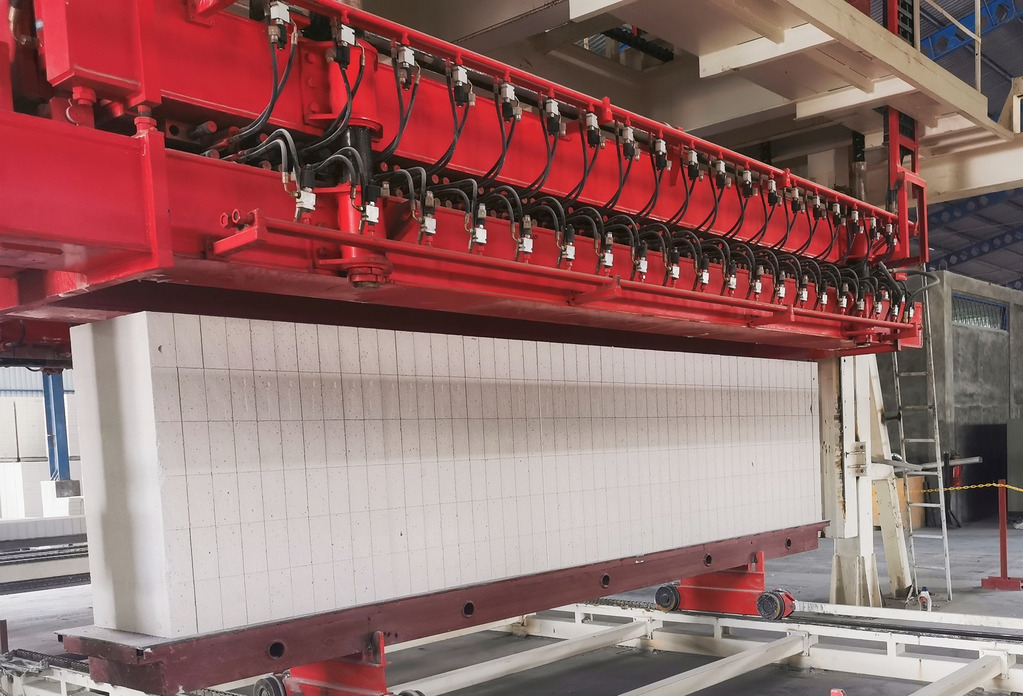 Through the automation transformation by Keda Suremaker, a complete packing and handling device (chain conveyor, cake transfer machine, package conveyor) was added, which greatly improved the efficiency of packing section. These will realize the automation upgrade, improved product quality (reducing damage by human handling) while reducing labor costs and increasing the customer's product profit.
The thin blocks with 75 or 100 mm in thickness are very prevalent in Indonesia. If the block thickness is provided by the horizontal-cutting machine, too many layers are created in the production process, which can create separation problems that result in long working cycles or damages to blocks. However, if the block thickness is cut by the vertical-cutting machine, the block may easily collapse during transportation.
In order to solve the above problems and meet the demands of mass production of thin blocks in Indonesia, Keda Suremaker designed a special solution, according to this solution the block thickness is cut by the vertical-cutting machine and a small final product-tilting table will be added into the packing line to turn cake vertically by 90°, so that the risks related to transportation will be reduced.
Based on the successful cooperation for the first packaging line between the two companies, Axel AAC decided to expand in 2022, and this time, Keda Suremaker became the first choice of Axel AAC. The new production line is under construction.
Consistent quality creates lasting trust
Maccon, based in Makassar, is another important partner of Keda Suremaker in the Indonesian market. Maccon was established in 2013 and produces high-quality autoclaved aerated concrete products for a wide range of applications in residential, commercial, and industrial buildings. The company's production process uses advanced automated equipment and technology from Keda Suremaker to ensure product quality and production efficiency. At the same time, Maccon focuses on environmental protection and sustainability and is committed to improving the energy efficiency and environmental performance of its products.
In addition to producing high-quality building material products, Maccon also offers customers a full range of service support. The company has a dedicated technical team that can provide on-site technical support and solutions to ensure that customers receive optimum benefits from their use. In addition, Maccon offers training and education services to help customers better understand and apply autoclaved aerated concrete products. Over the past few years, Maccon has continued to innovate and develop, actively participating in Indonesia's infrastructure development and urbanization process, contributing to the development of Indonesia's construction industry.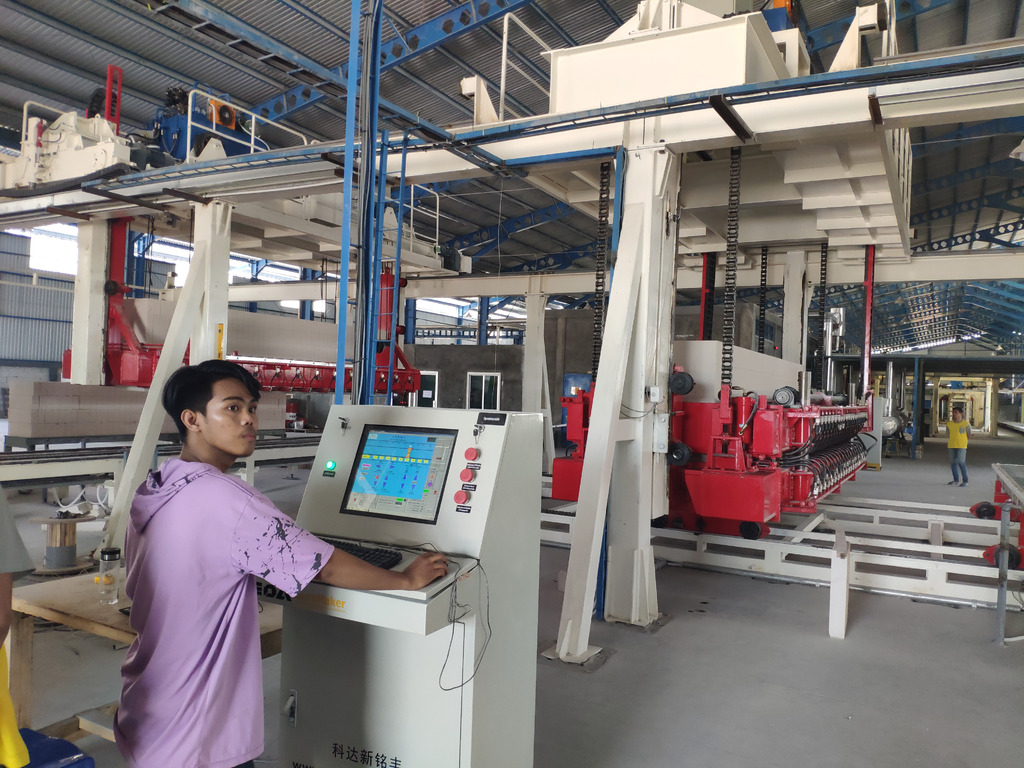 "Maccon appreciates the stable quality of Keda Suremaker AAC plants solution, which is an important reason why our customers choose us as partners" says James, Keda Suremaker's International Marketing Director. "Keda Suremaker and Maccon have been partners since 2013 and have been working together for more than ten years. For more than 3000 days and nights, Maccon's production line has been running efficiently and steadily. Maccon plans to build another AAC plant and there is no doubt that Keda Suremaker is Maccon's first choice once again. Maccon will have a total capacity of 700,000 cubic meters per year once the new AAC plant is put into operation.
"Keda Suremaker realizes that the most important requirements of its customers are to keep the plant running steadily and to produce AAC products with consistent quality. Specifically, for the Maccon project, we created a long-term partnership with Maccon based on win-win value. We could show our high quality AAC plant solution to the market and at the same time Maccon could produce high quality AAC products."
"We also have learned a lot from our customers. Their philosophy of running a successful AAC plant gives us inspiration. We are very happy to communicate with customers such as Maccon. To better communicate with our customers, our engineers have even learned to speak Indonesian fluently, which has led to a growing trust between us and our customers. In future, we plan to build more high-quality projects like the one we completed with Maccon", said James.
Keda Suremaker AAC plant solution can provide a complete project service roadmap for the project, which is divided into four parts as follows.
Part I: Raw material and planning design
a) Organize an expert group to visit the project site and plan the whole plant layout according to the land situation and raw material resources.
b) Configure the appropriate range of equipment and provide an investment feasibility study according to the expected capacity and automation level.
Part 2: Production and logistics
a) Develop a reasonable production plan to ensure the required delivery time.
b) Provide various options for packaging and logistics solutions related to the specific requirements of the project.
c) All major equipment must be factory-commissioned to ensure reliable quality.
Part 3: On-site installation and commissioning
a) Assign an experienced project service team to the local site before the first equipment arrives on site. Cooperate with the on-site construction team to ensure smooth progress of the project.
b) Provide full support for the whole plant planning, equipment installation, electrical commissioning and process solutions. In addition to the local service team, provide 24-hour online remote service.
Part 4: After-sales service and training
a) Provide training and consulting services for customers throughout the project life cycle, including but not limited to equipment operation, safety instruction, equipment maintenance and process FAQs.
b) Keda Suremaker Engineering Service Center is responsible for spare parts and after-sales support to ensure that after-sales needs are always met.
New projects powered by Keda Suremaker are currently under construction in Indonesia and all the customers are confident to see these new, efficient and intelligent AAC plants coming into operation in the near future. Meanwhile, in 2023, the RCEP agreement will come into force for Indonesia, which will strengthen the economic ties between China and Indonesia, and Keda Suremaker will work with its Indonesian partners to promote the development of the AAC market in Indonesia through innovative technology and tailor-made services.
Keda Suremaker
2887, Tianmen Rd
Economic and Technological Development Zone
Maanshan City, Anhui Province
China
+86 0555 2113600