NEWS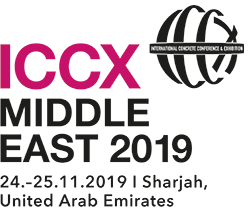 ICCX Middle East 2019 – Register now!
Just a few weeks left until the start of the 3rd edition of ICCX Middle East, November 24th and 25th at the Sharjah Expo Centre. This event focussing on the concrete and precast, as well as AAC industries and will include a tradeshow and a conference; to promote economical and state-of-the-art concrete/AAC construction methods. This is the only trade show and conference in the Middle East dedicated to the advancement, technology and use of concrete/AAC elements.
www.iccx.org
Chief Operating Officer of H+H Poland, proudly presented his ...
Huge interest in AAC worldwide in Indonesia
It was a great pleasure for us to introduce ...
AAC WORLDWIDE is available for your global communication towards this industry. Make use of AAC WORLDWIDE – be it with a subscription, the contribution of advertisement or editorial. Register online at www.aac-worldwide.com for the email newsletter that is available free-of-charge.
Industriestr. 180, 50999 Cologne, Germany
+ 49 2236 962390
Mon to Fri: 08:00 AM - 17.00 PM