Review of World of Concrete, Las Vegas, USA
New prospects in a changing construction industry
Loading...
The trade show covered an area of more than 587,000 net square footage (NSF) (54,500 m2) in the Convention Center and offered a wealth of product displays and demonstrations both indoors and outdoors. Highlights included the presentation of new innovations, such as the first mobile 3D concrete printer and the first AI site plan printer, high-quality work vehicles with electric drives, wireless concrete sensors and modern and promising building materials such as the environmentally friendly autoclaved aerated concrete.
The expert committee of the trade fair organization had long rated AAC as a promising building material with great future potential and now offered industrial suppliers and AAC manufacturers an ideal opportunity to present themselves to trade fair visitors with the first AAC pavilion.
With AAC Worldwide as the exclusive media partner, it was possible to drum up a lot of publicity in the run-up to the trade fair and ensure that not only a large number of trade visitors visited the AAC pavilion, but also that the right visitors became aware of this novelty – keyword quality. The aim was particularly for potential investors to focus their attention on the building material, which is not yet widely used in the USA, and to recognize the investment potential.
As part of the AAC pavilion, a separate lecture session on AAC was organized. AAC Worldwide had invited experts who shared their experiences with the production and application of AAC to the curious audience. Around 50 participants took part in the seminar, which was very well received.
Charles Paterno, Founder and Principal, AAC East, USA
"AAC East spent several years introducing AAC blocks to architects and engineers anticipating that there will be strong demand for exterior block walls for schools and residential construction. Although there remains good potential for these segments, what we are finding on the East Coast is that specifiers are quickly adapting panels for cladding and fire protection.
Many visitors to the booth stated that they are glad to see additional capacity coming on stream in the United States. From a panel perspective, many visitors inquired about the ability to panelize and clad a wall system; and deliver a more completed wall section to a job site."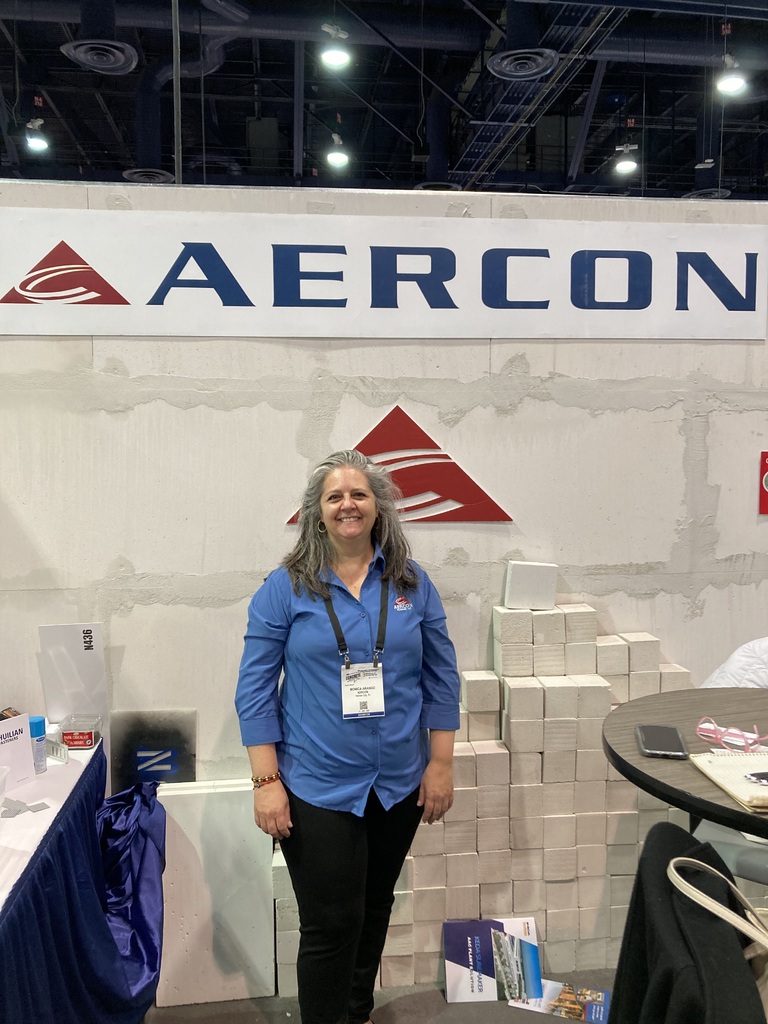 Monica Arango, Sales Architect, Aercon Florida, USA
"Now that Americans are becoming more environmentally conscious, we are seeing an upswing in the use of AAC. A significant increase in multifamily and commercial construction has led to increased demand for firewalls and fire-resistant building materials.
We had a variety of visitors including owner builders, engineers, architects, building officials, masons, general contractors and many others who were interested in AAC and its availability in the US. By being present in an area that was primarily related to AAC we had a targeted audience and effectively reached those with interest in AAC."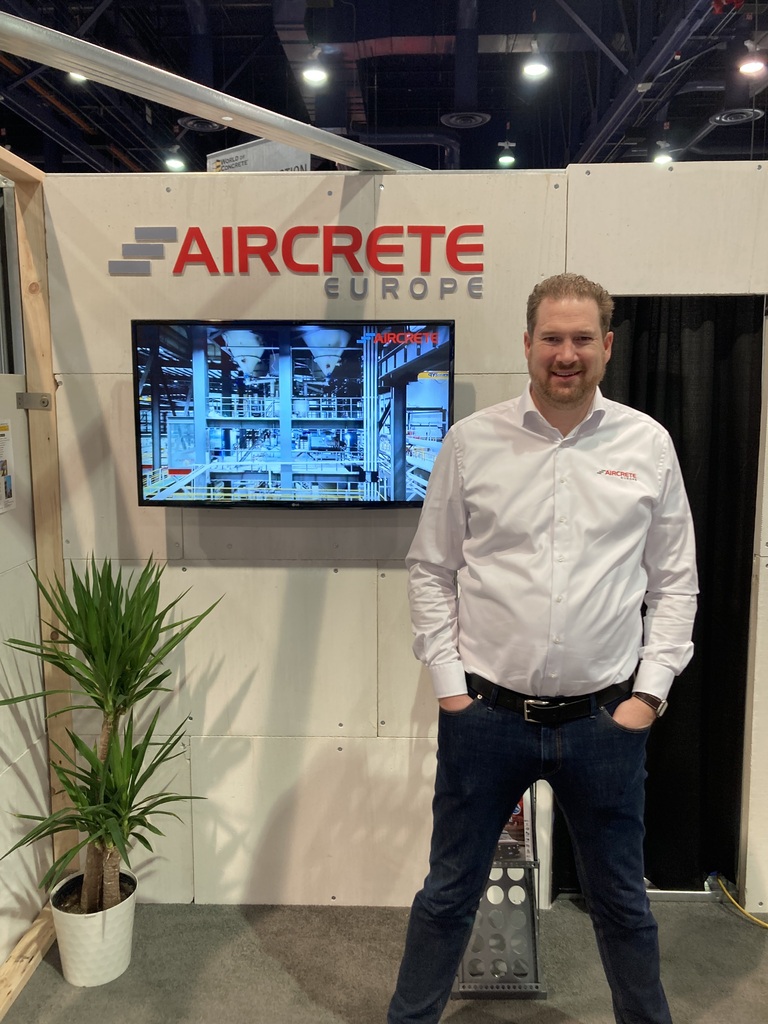 Ralf Beier, Managing Partner, Aircrete Europe, The Netherlands
"We have participated in several World of Concrete shows in the past but have never had such a good show with regards to the number and especially quality of the visitors. I do believe that the dedicated AAC pavilion did attract more people and also showed the customers from the USA, where the product is still new to the market, that on a global scale there is an entire AAC industry. We believe that this is the right time for this green building solution to really grow into the North American market, so for sure you will find Aircrete on the next AAC pavilion in 2024."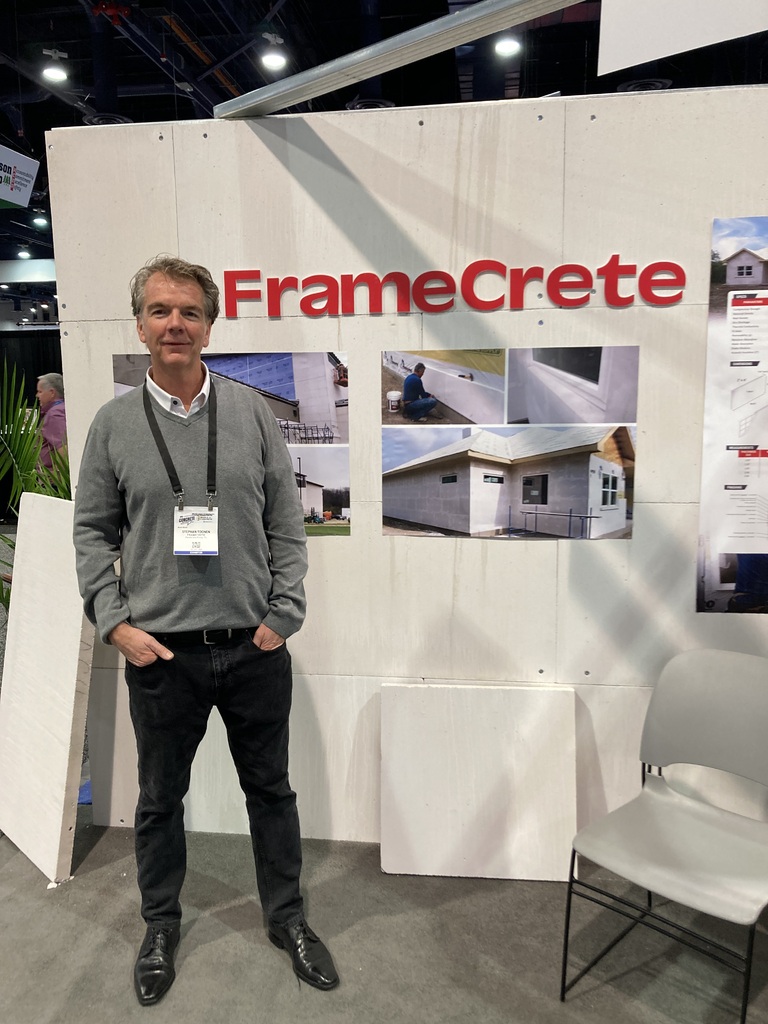 Stephan Toonen, CEO, FrameCrete, USA
"Framecrete is very excited to bring together the light steel framing and AAC technologies as a game-changer for construction in North America. Our visitors here at World of Concrete were fascinated by this construction system. Combining the 2" and 3" AAC panel with a structural frame is simple and cost-effective to scale AAC demand in USA with a non-combustible, sound dampening, insulative product perfect for single-family, multi-family, hospitality and commercial buildings."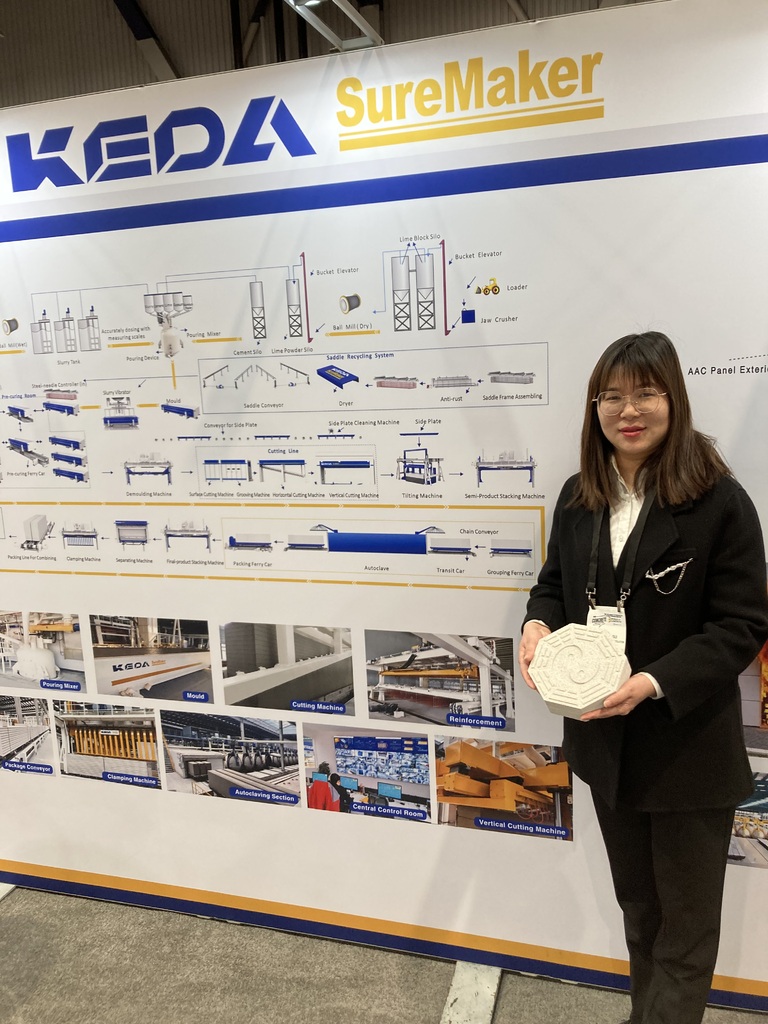 Cherry Gui, Area Sales Manager, Keda Suremaker, China
"World of Concrete is truly international. We have received both visitors not only from the USA but also from many different countries and regions like Canada to South America, as well as Asia, Middle East, Africa, etc. It was important that all AAC related exhibitors were located together in the same pavilion, thus generating a powerful synergy that clearly enhances the overall promotion of the AAC business in this challenging market. By far the main feature that immediately attracts most attention for AAC was its fire resistance."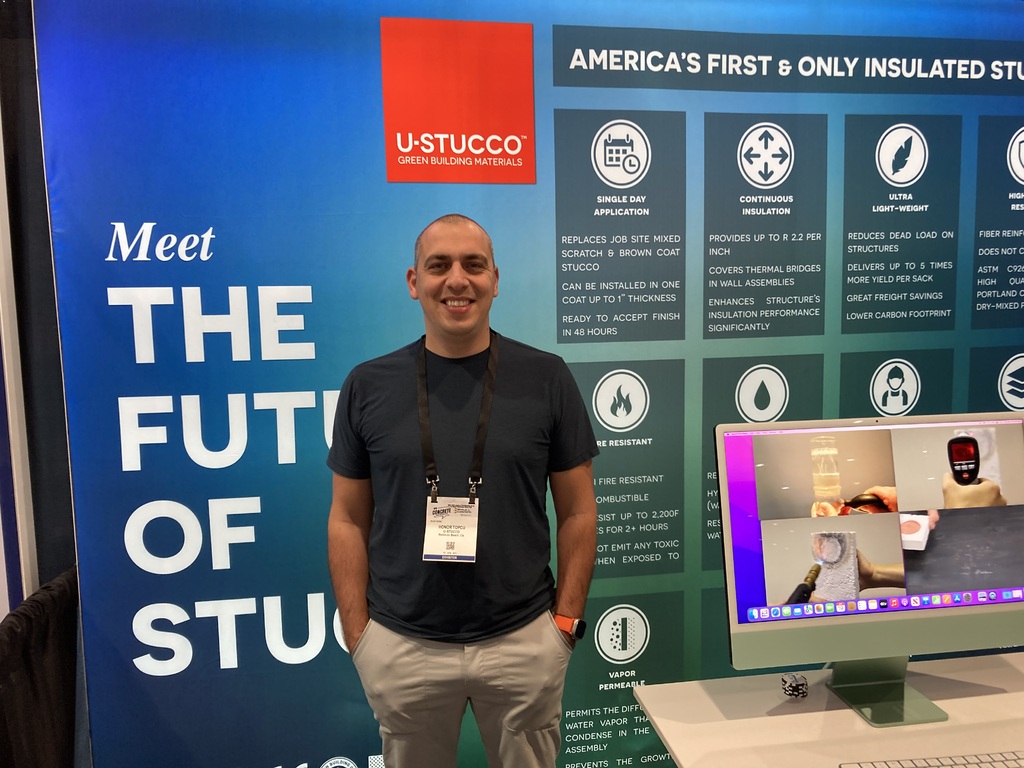 Honor Topcu, CEO, U-Stucco, USA
"The majority of the US builders are getting more and more interested in eco-friendly, sustainable, energy efficient products like AAC. Therefore, we see a great benefit having a dedicated AAC-Pavilion at World of Concrete in the coming years. U-Stucco is proud to be the key solution partner for all AAC manufacturers located in the North & South American markets for over a decade. During the show, we have received tremendous amount of interest by various builders across the nation."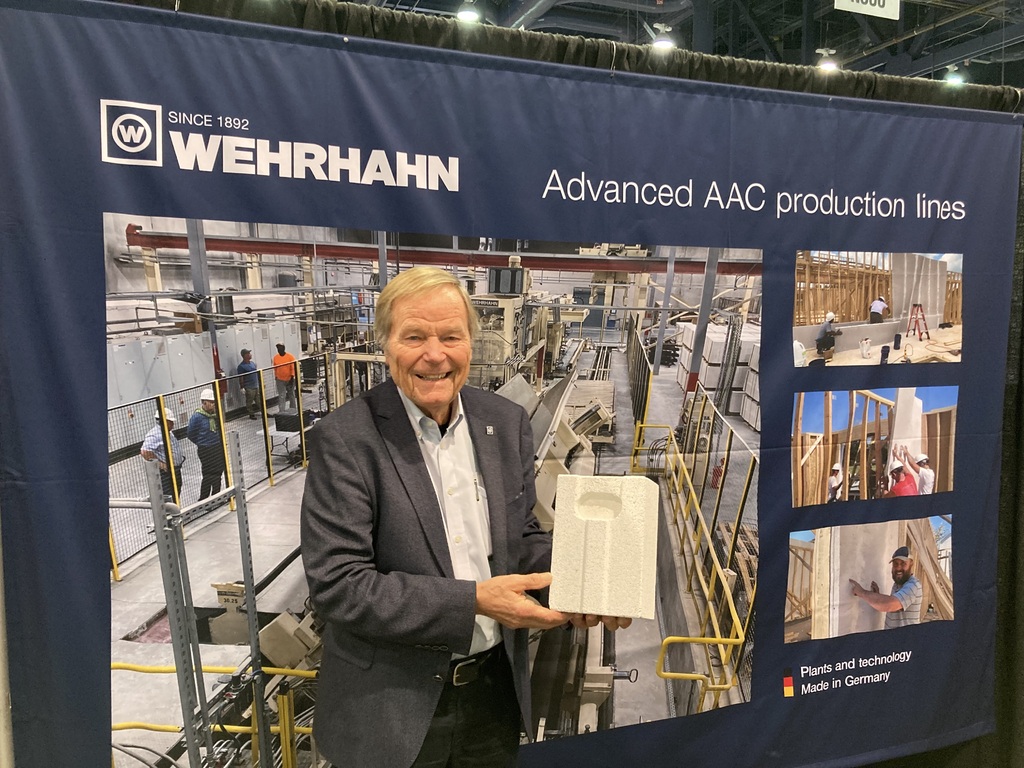 Dr. Klaus Bohnemann, President & CEO, Wehrhahn, Germany
"30 years ago, Wehrhahn built the first AAC plant in Florida. Times have changed since then. Rising wood and energy costs, ecological thinking, hurricanes, tornadoes and fires are boosting the demand for sustainable, economical and ecological construction materials. Today, AAC can be the answer. By adapting AAC to the prevalent home construction, such as cladding, fire protection, sound-absorbing floors, partitions and durable modular homes throughout the US, the benefits of AAC become evident. Trade shows like the WOC and seminars for architects are a helpful step towards success."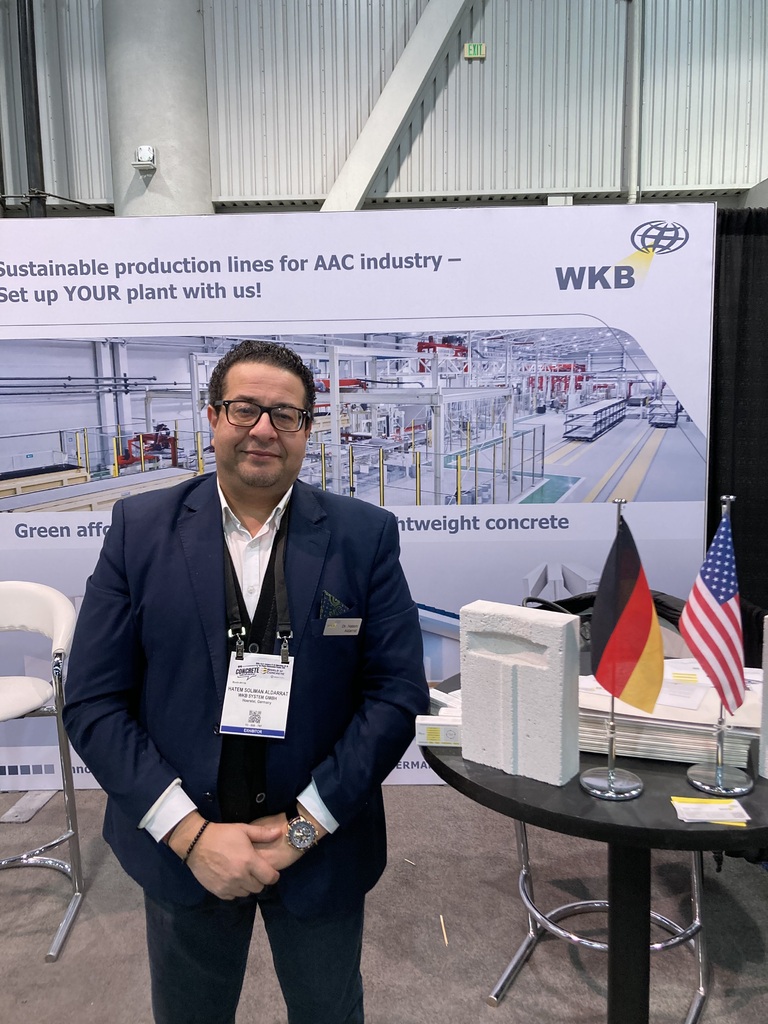 Dr. Hatem Aldarrat, Area Sales Manager, WKB Systems, Germany
"WKB Systems took part at the WOC for the second time. For sure, the official AAC pavilion enhanced the visitors' interest in the AAC industry and related products. Compared to 2022 we had very intensive contacts that were quite curious about a "new" building material. It was a great chance for us to supply our visitors with all the information about production process, WKB technology and physical properties of AAC. One of the main issues of our discussions was the very low ecological impact of AAC during its lifecycle. So, we are keen to support the AAC markets in the USA and Canada also at WOC 2024!"
The AAC seminar presented three exciting lectures. Markus Hesse, Head of International Product Management at Xella Baustoffe GmbH, opened the session with a presentation titled "Autoclaved aerated concrete – from Sweden into the World. An introduction to the modern high-performance building material". Based on years of professional experience at Europe's largest AAC manufacturer, he reported on the genesis of the successful building material in Europe and other parts of the world and showed comparisons to other building materials/construction methods commonly used in the USA in order to evaluate the numerous advantages of AAC in a well-founded manner. In addition, he illustrated the high sustainability of AAC on the basis of verifiable characteristic values.
Fouad H. Fouad P.E., Professor and Chair Emeritus, Department of Civil, Construction, and Environmental Engineering at the University of Alabama (Birmingham) discussed the development of AAC in the USA. In the course of his scientific career, he had a lot of contact with AAC and was involved in the standardization work for AAC construction. With his assessment "Lessons Learned", he showed ways in which AAC can establish its place in the American construction industry in the coming years.
The final presentation was given by two representatives of Florida-based AAC manufacturer Aercon Florida. Monica Arango, Sales Architect and Kelly Kent, Sales Manager, reported on the production process and the possible applications and trends in the AAC industry from the perspective of a building materials manufacturer. It became clear that AAC has great potential to change the American construction industry for good, because the many advantages offered by the building material exactly fill the gaps that are created by currently dominant construction methods.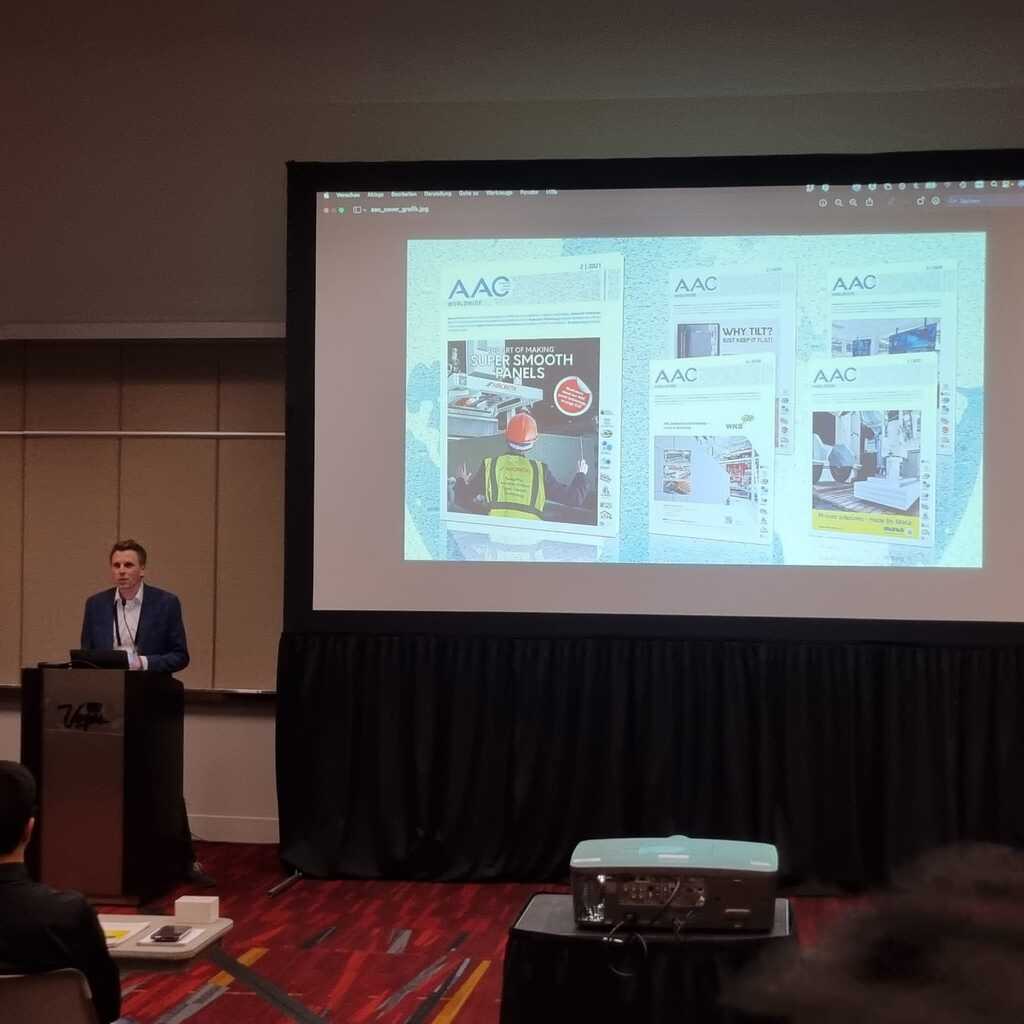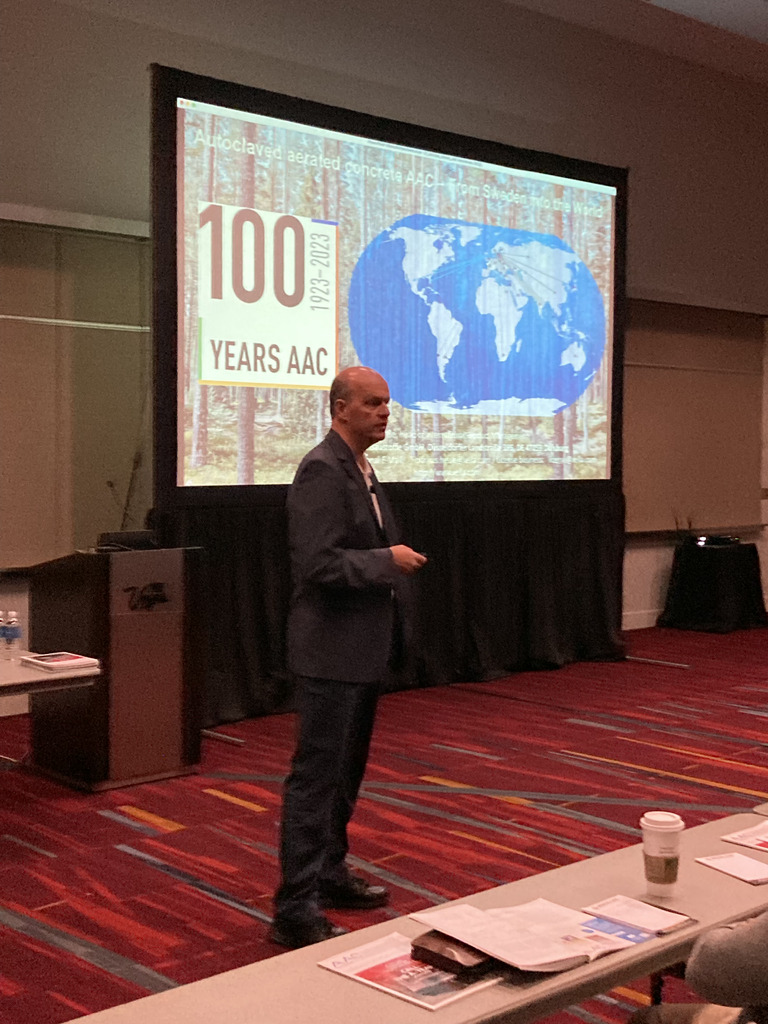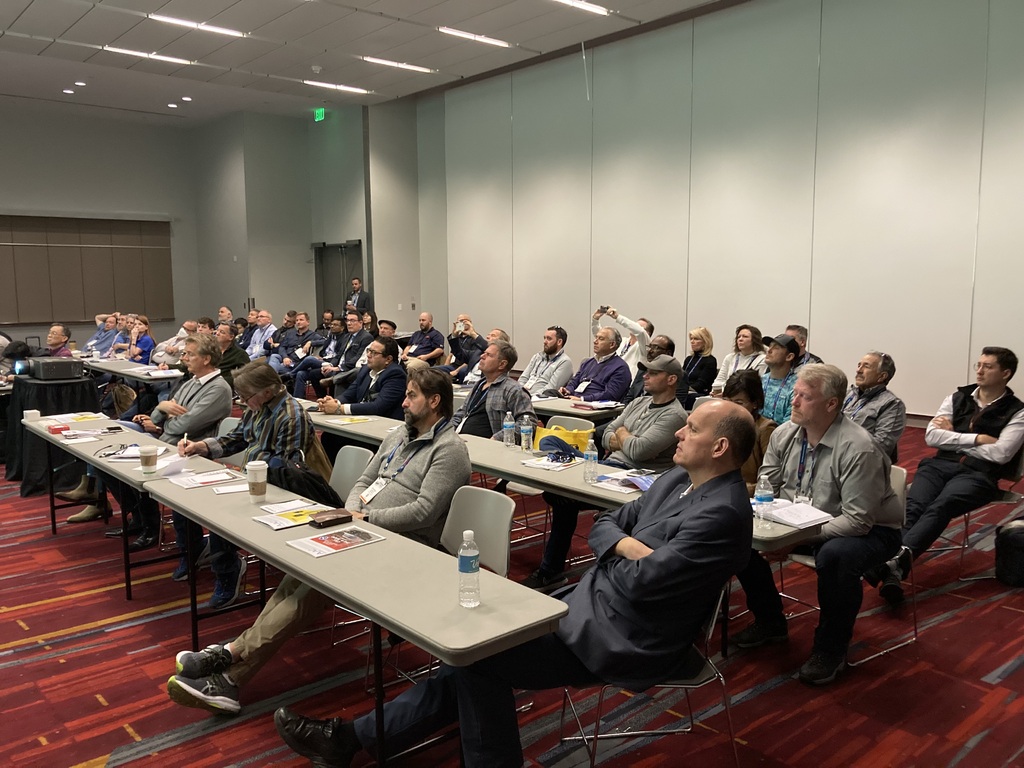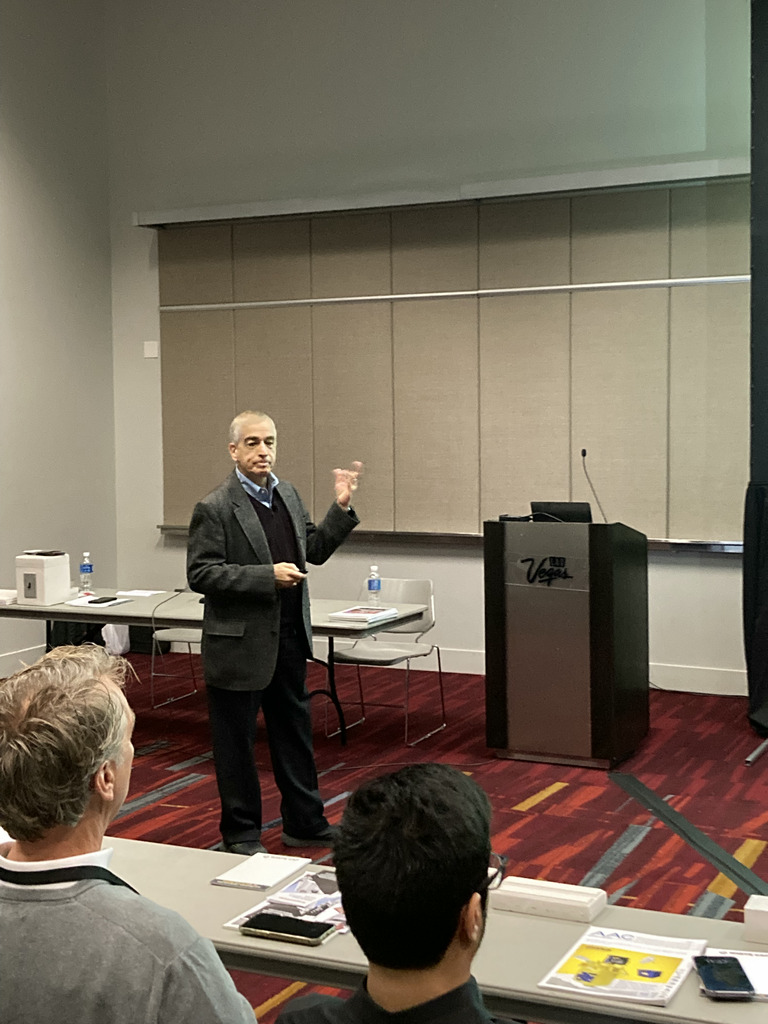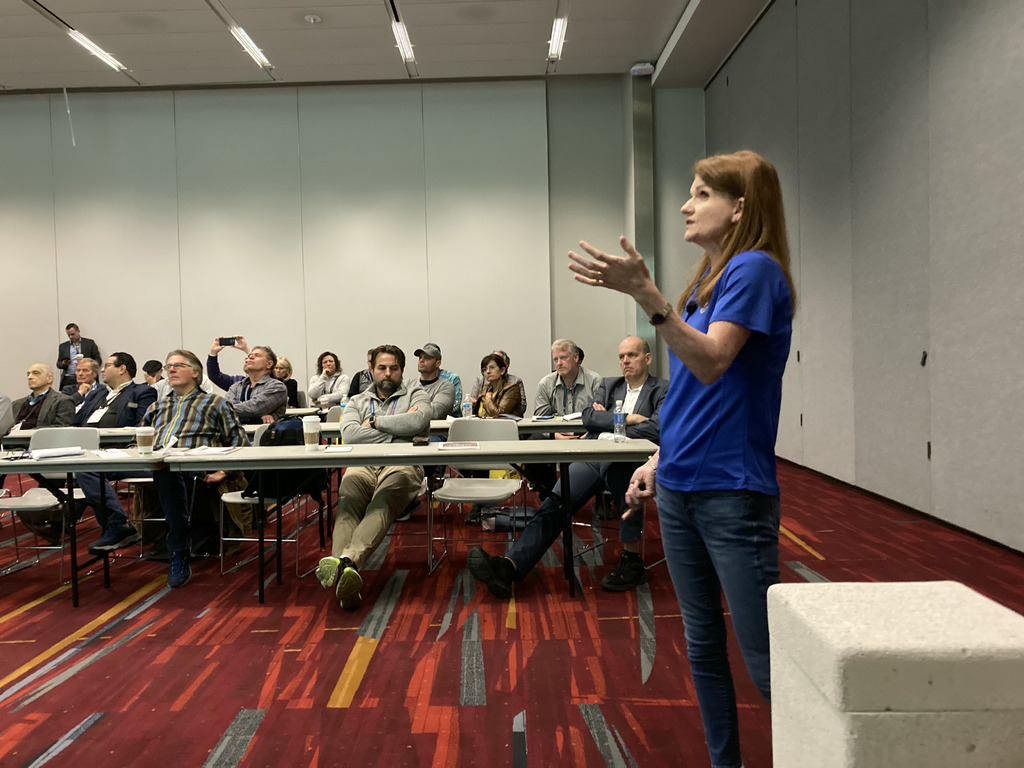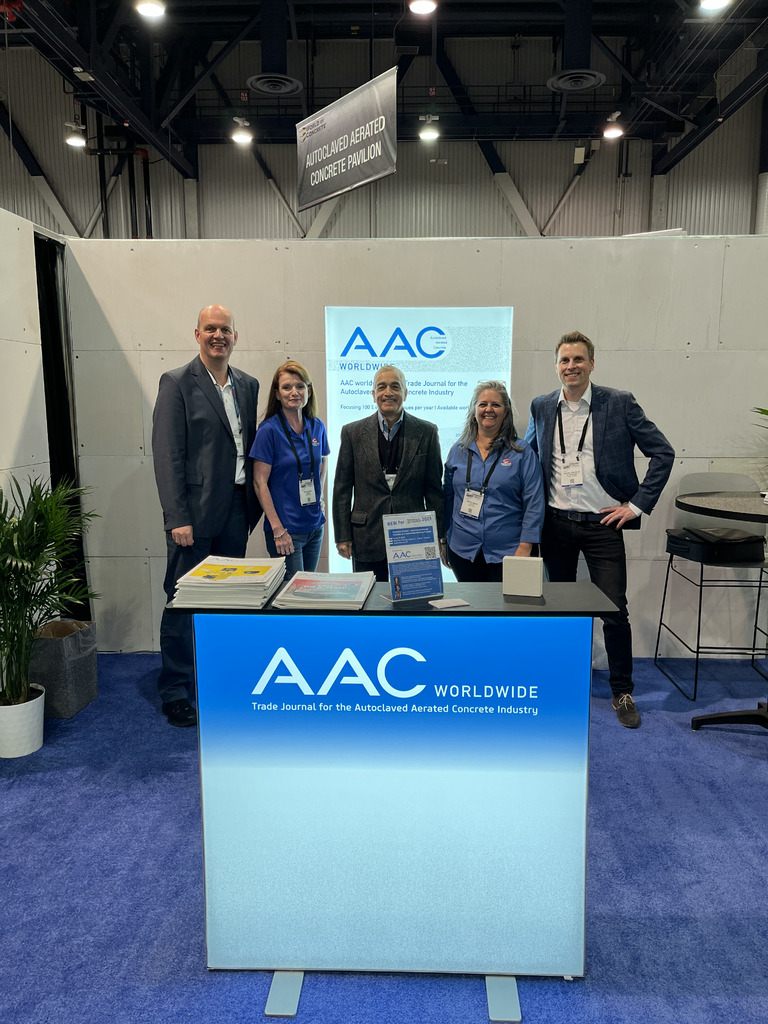 "The 2023 edition of World of Concrete has far exceeded our expectations. The very crowded exhibition space and packed training seminars show how important it is to meet in person and that today it is more important than ever to have a place to socialize, learn and exchange ideas about the concrete, masonry and construction industries that make an important contribution to our economy," says Jackie James, Vice President of the World of Concrete. "Attendance is on its way back to pre-pandemic levels and the World of Concrete is leading global construction trends."
The next World of Concrete will take place for the 50th time in Las Vegas from 23 to 25 January 2024. Again, the event will include an AAC pavilion.
Below you can read a commentary by Markus Hesse. He reflects on lessons learnt during recent years and at the World of Concrete 2023, based on numerous discussions with experts from the construction industry.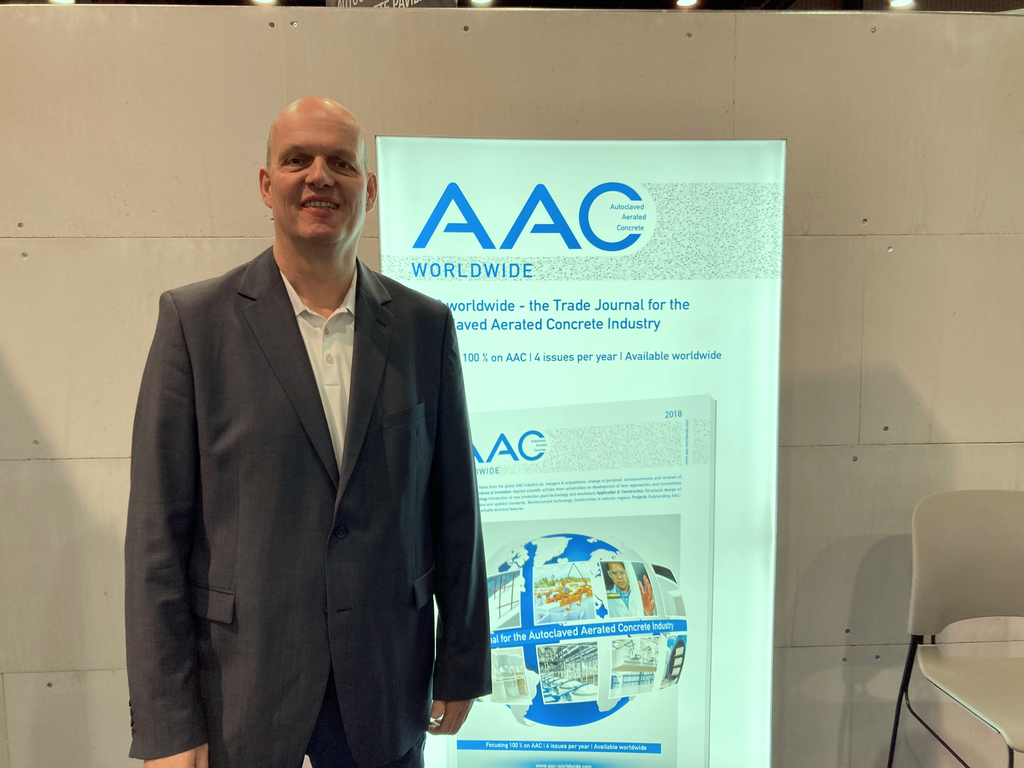 Markus Hesse, Head of International Product Management at Xella Baustoffe GmbH
Single-family house construction in the USA - opportunities for AAC
Today, single-family houses in the USA are often built with simple wooden structures and receive an exterior wall cladding that provides protection against the weather. A little thermal insulation and gypsum board on the inside complete the wall solution. At first glance, this makes the houses look good and fulfills the purpose of creating affordable living space. Compared to Europe, people move frequently with job opportunities from city to city in the United States of America, so the quality requirements for houses are not as high as in Europe.
On the other hand, we repeatedly see pictures of natural disasters in which houses fall victim to wind, flames and water. In addition to the destruction of values, the loss of living space is then of decisive importance, even if Americans then quickly look for a new place to live and also find it in this huge country.
With AAC, there are at least two good solutions that can improve the quality and resilience of single-family homes. For example, monolithic masonry with a plaster facade, which is widely used in Europe, is also standardized here in America and, as a solid wall, can fully exploit its advantages in terms of summer and winter thermal protection. The non-combustibility and airtightness of the wall provide the basis for regionally appropriate buildings.
Known in the United States are hollow concrete blocks, which were also the basis for the masonry structures with aerated concrete. For this reason, the walls are provided with vertical reinforcement bars. Based on European experience, here certainly exist opportunities to simplify this type of construction even more, and thus with the solid AAC blocks that allow easy and fast building of masonry walls. Together with large-format ceiling and roof panels, this can then also be used to create a complete building envelope made of AAC, which can then withstand natural disasters. Such solutions are still rather rare in the United States, but this is also due to the fact that the distances are very long and the existing production facilities in Mexico, Florida and South Carolina can only cover a small part of the market. Some imported products supplement the range, but even this covers only a small part of the potential market volume.
If the solid AAC wall, roof and ceiling solutions are combined with thermal insulated windows and efficient building services, they can be used to create energy-saving buildings where the user only has to pay a small energy bill. In summer, the solid building envelope prevents severe overheating of the rooms and air conditioning can be reduced, if not eliminated altogether. In winter, the construction prevents large heat losses to the outside and the need for heating energy is low. In many cases, houses in America are not even designed for severe winters, and in the event of a cold snap, the air conditioning system does not manage to bring the rooms in a simple wooden house to a comfortable level.
Thanks to the solutions with U-blocks and O-blocks, it is possible to build stormproof structures with the help of ring anchors and tension anchors in the subsoil. Thus, the horror of a hurricane is taken away a good bit after all, and the property can quickly be used for residential purposes again. There is enough knowledge here in the United States about what a stormproof structure should look like, but due to the limited reference to one's own house, the mindset of a very sustainable building design for single-family homes is not yet present here, and we will still see such pictures again and again where a massive building made of AAC has withstood the storm and everything around it has been leveled to the ground.
Rising costs of wood and insulation materials have made AAC construction more attractive for single-family homes in the past two years. Whereas solid wall solutions used to be about 20% more expensive than wood stud construction, the picture has now turned and AAC construction is somewhat less expensive, provided that transportation distance, one of the major cost drivers, does not become too great. As a result, solidly built single-family homes are also more likely to be found in the southeastern United States, within a day's drive of manufacturing facilities. Nonetheless, AAC constructed homes can be found in other regions as well, as companies have identified a niche for themselves here and can also attract the appropriate customers.
Rather than foregoing wood stud construction, the second major AAC construction method in the United States involves installing reinforced AAC wall panels between 2" and 8" thick in front of the wood stud structure. In between, as is traditionally the case, there is still a vapor retarder so that the thermal insulation behind it is protected from moisture penetration from the outside. In addition, PU foam is applied between the construction as insulation and, after the pipes have been laid, the walls are covered with plasterboard. In addition to the wood stud construction method, a metal stud construction method is now increasingly being used, which is similar to the European dry wall construction method, except that structural design loads can also be transferred here. This type of construction is also being used successfully in Australia, where it is one of the main applications for autoclaved aerated concrete.
Opportunities exist if large developers can be convinced that AAC solutions are better overall. With high construction volumes around major cities, there is potential here that cannot be met by the plants currently available. However, it is important to support the current shift in thinking towards better building solutions and to offer market-driven solutions. Here, the manufacturers of AAC in the USA are very active, but they have to prove themselves again and again for cost reasons and not only provide the material, but also find the right processors for it. And it is precisely in this shortage of skilled workers in construction in the USA that the opportunity for large-format AAC components lies. High labor costs demand fast construction solutions, which then also bring the additional added values mentioned above. This can then result in the right package for the developers, who first have to be convinced of this with show houses. To the buyers it seems in many cases to be all the same, here the purchase price, the area and the optics of the building counts more than to worry about details. This is due to the high rate of relocations and the fact that buildings are often sold again after a few years, together with the interior furnishings.
The interest in AAC as a building material was evident at the World of Concrete building materials show in Las Vegas in January 2023. Many conversations at the AAC industry booths centered on the fact that the material can not only be used to build cost-effectively, but that the solutions offered can also withstand natural disasters in the best possible way. The time has now come for AAC to gain a footprint in North America and for the solutions that have been spread around the world to be used here in line with demand. Manufacturers are being asked to join the trend toward high-quality, sustainable building solutions in one of the world's largest markets and offer appropriate products. Today, the chances are better than ever to provide the USA with a building material that meets all requirements with AAC.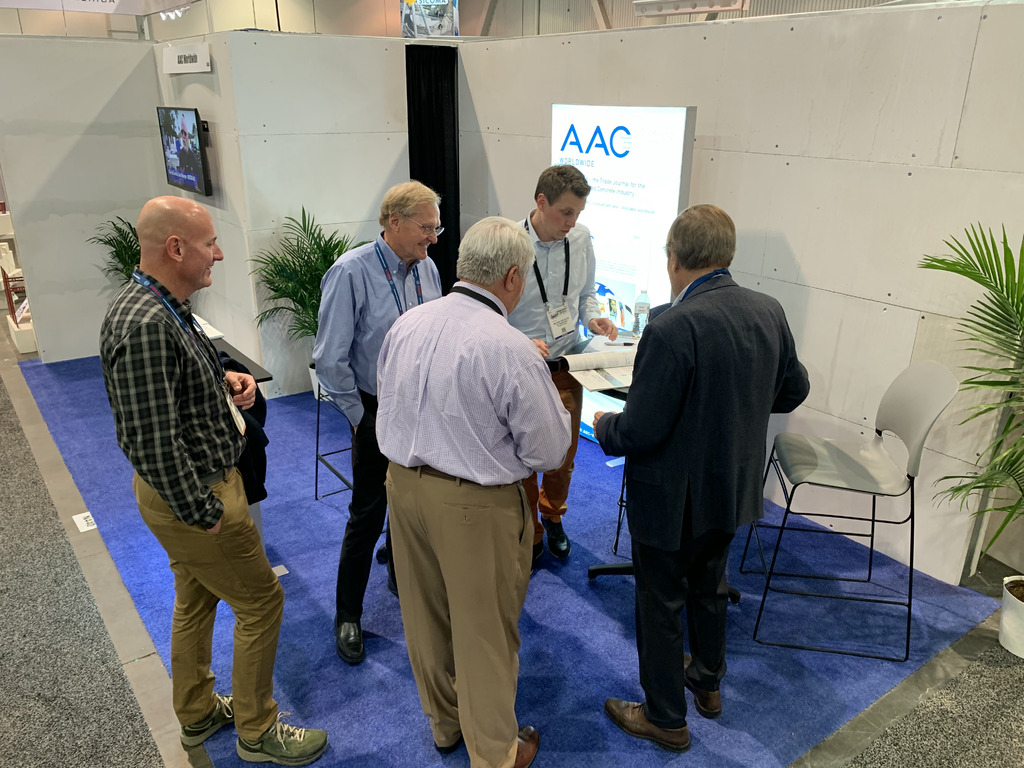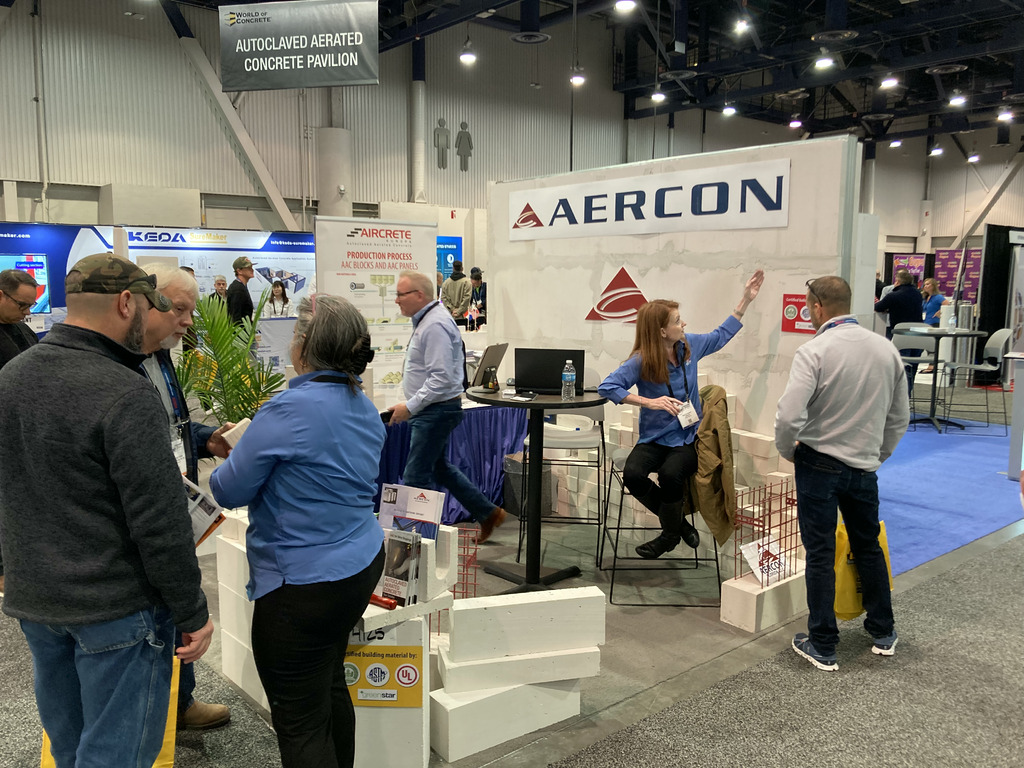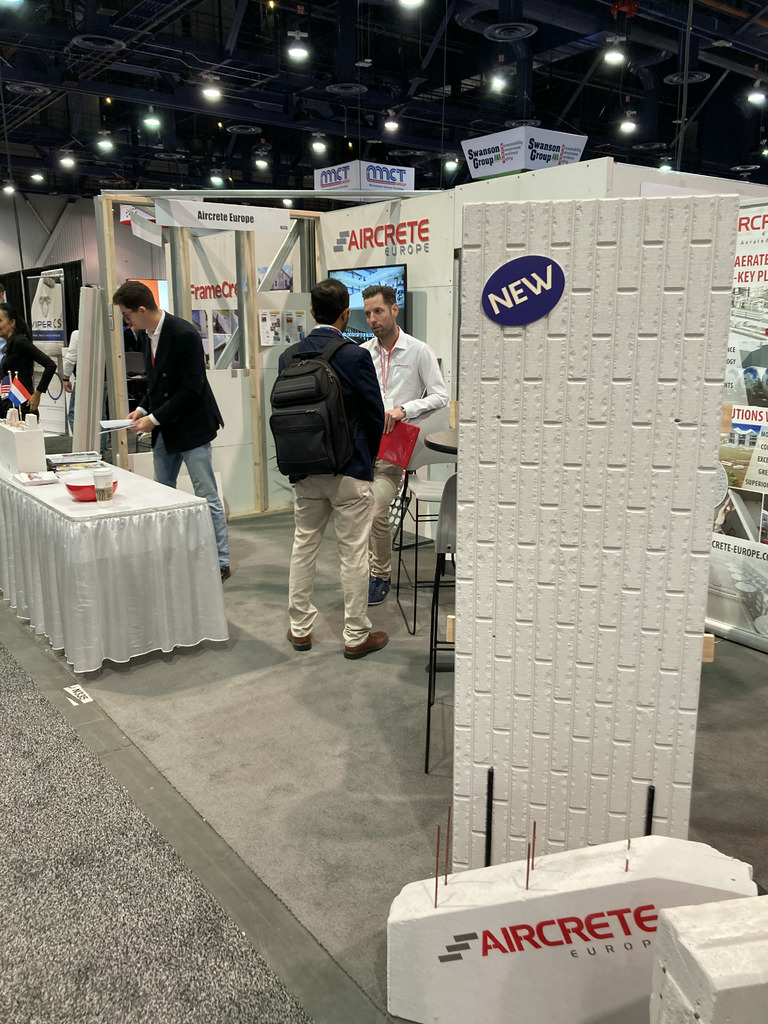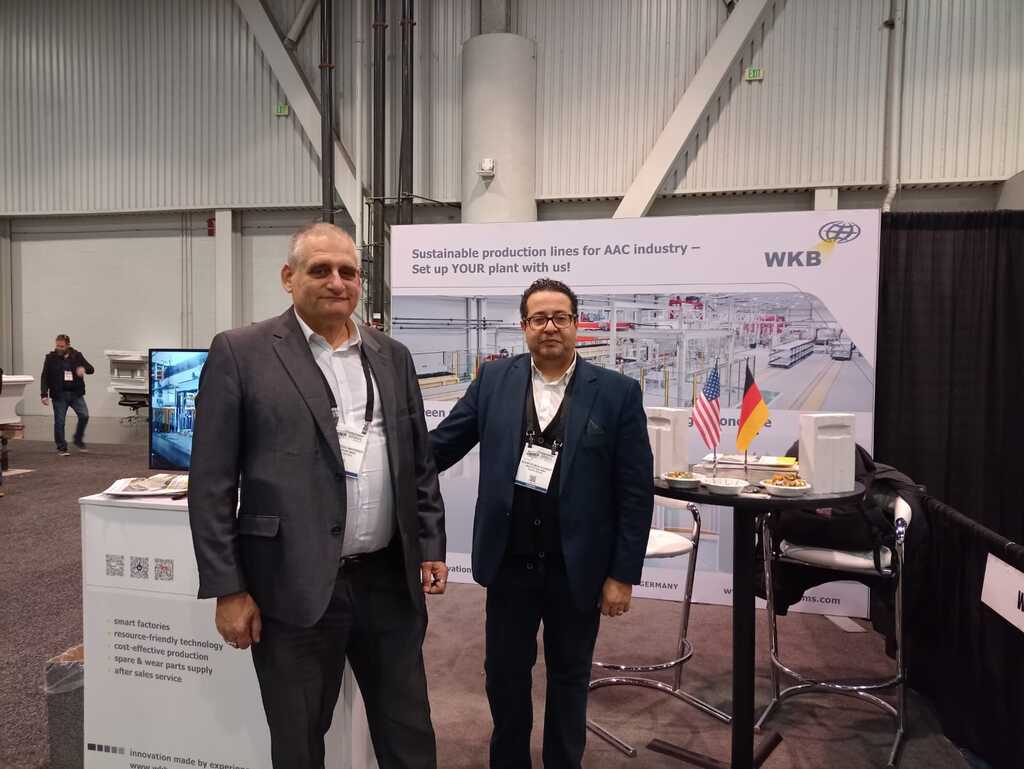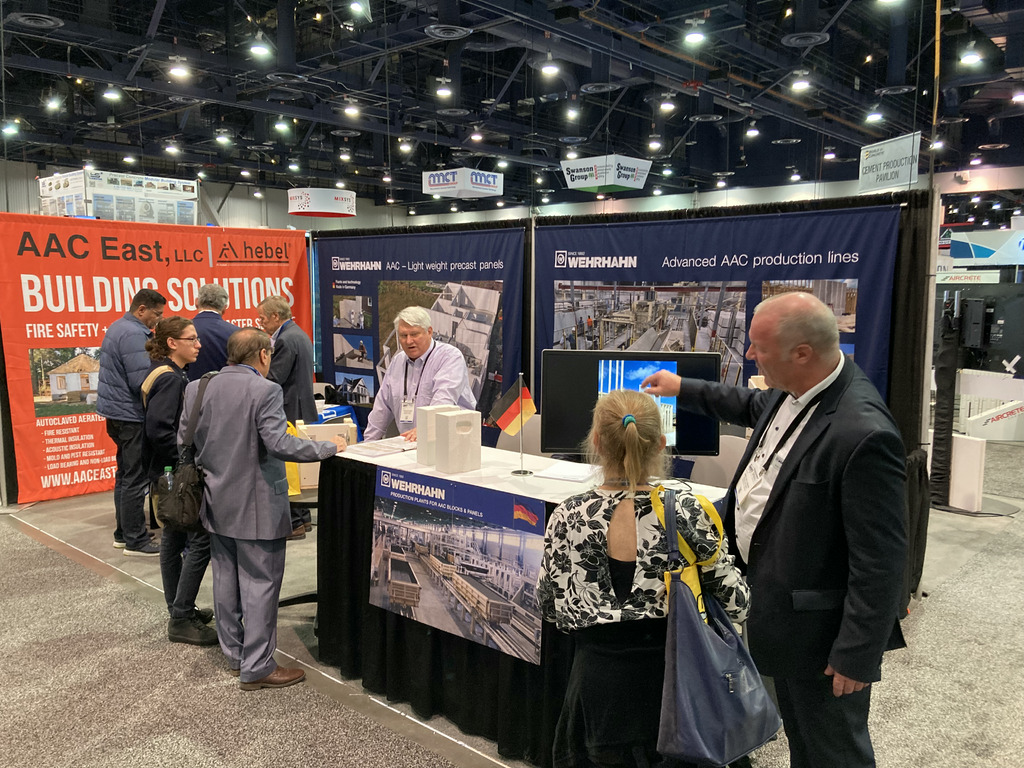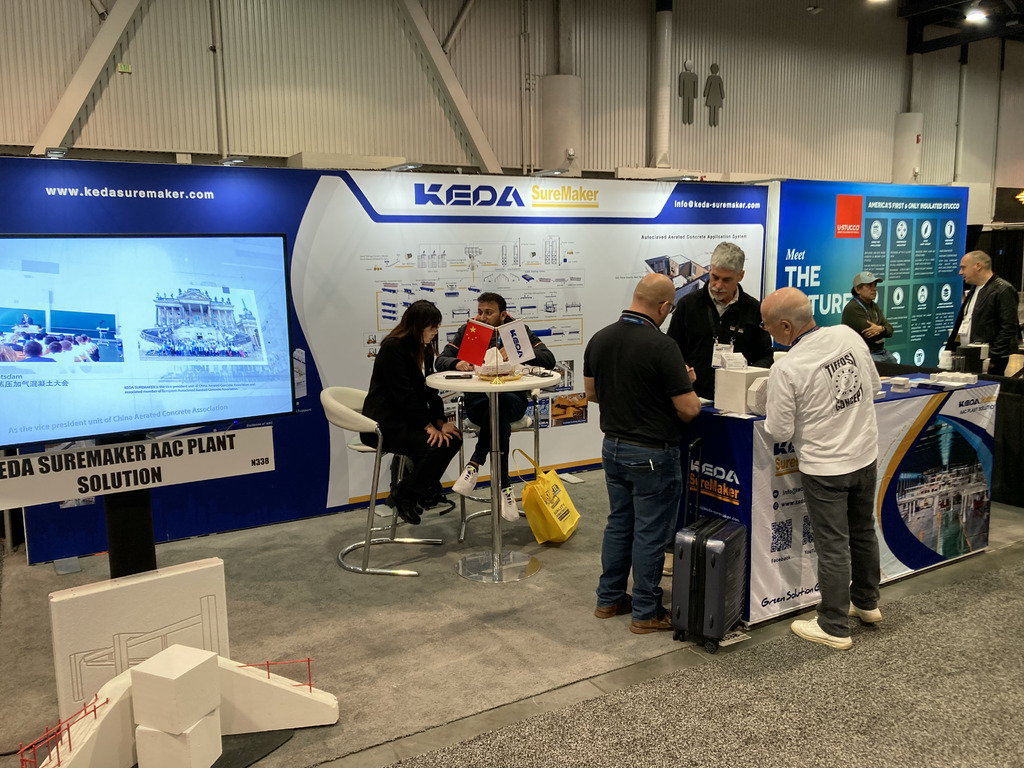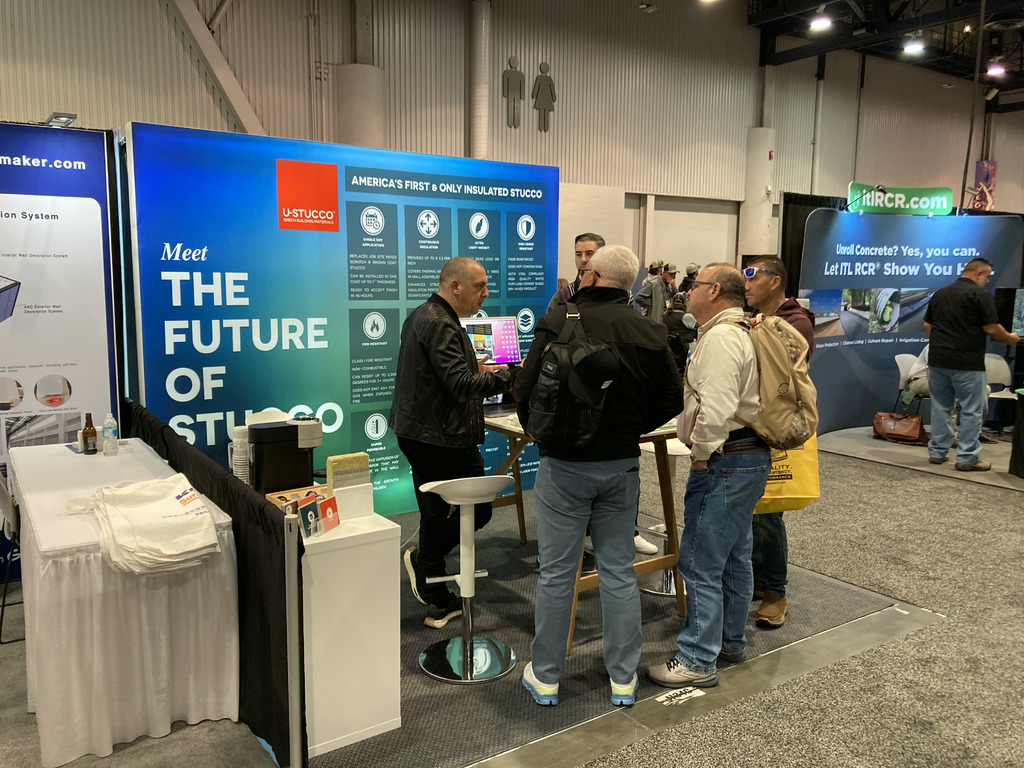 www.worldofconcrete.com