33rd World's Leading Trade Fair for construction machinery, building material machinery, mining machinery, construction vehicles and equipment
Welcome to the bauma 2022!
Loading...
The bauma offers the world's largest overview of the complete construction, building materials and mining machines industries and international leading machine manufacturing companies from the autoclaved aerated concrete industry will also be represented at the bauma.
On the following page in this issue of AAC Worldwide, you will find up-to-date information from exhibiting companies from our industry, who have sent us their individual news for self-promotion. Short and compact, sorted alphabetically, with details of the companies and references to their respective stands at the bauma 2022!
ad-media Guide
ad-media is the publishing house of AAC Worldwide. The ad-media Guide for the entire concrete industry contains, in a handy waistcoat-pocket format, selected information about the suppliers to the AAC industry who will be present at bauma 2022. The ad-media Guide will be distributed at the AAC Worldwide exhibition booth B1.138 to all those interested in this industry. We look forward to your visit.
bauma news
---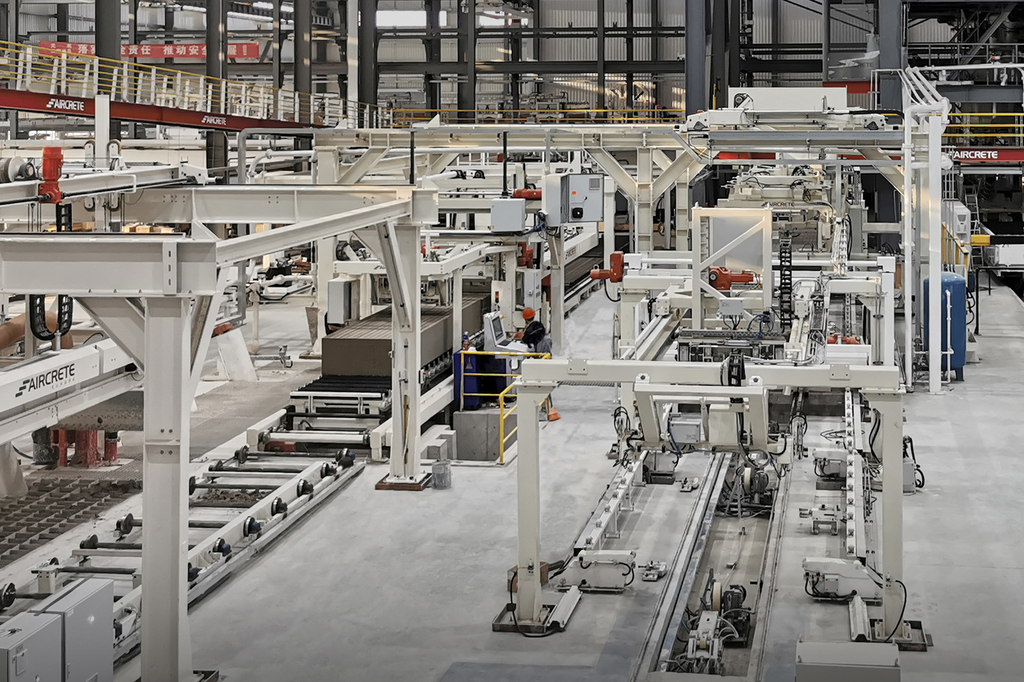 Aircrete Europe is the global leading developer and manufacturer of Autoclaved Aerated Concrete (AAC) technology for AAC panels and blocks production. We design and deliver the most innovative turn-key AAC plants worldwide, based on our unique SUPER SMOOTH flat-cake cutting technology.
Being the long-term, exclusive project partner for our customers, we guide you through all the steps of planning, building and operating your AAC factory or upgrading your existing plant. We are a full technology partner, not just a machine supplier, resulting in a far higher value service for our customers. We continuously invest in innovation and process technology to optimize the production process and product quality.
Through our unique position in the industry of operating our own AAC plants and with an international team of dedicated professionals of all disciplines, we truly understand what it takes to make your business a success.
We also have proven experience with upgrading and refurbishing existing plants with Hebel, Stema, Siporex, Durox, Ytong, etc. technologies.
Booth B1. 247


Aircrete Europe
Münsterstraat 10
7575 ED Oldenzaal, The Netherlands
T +31 541 571020
---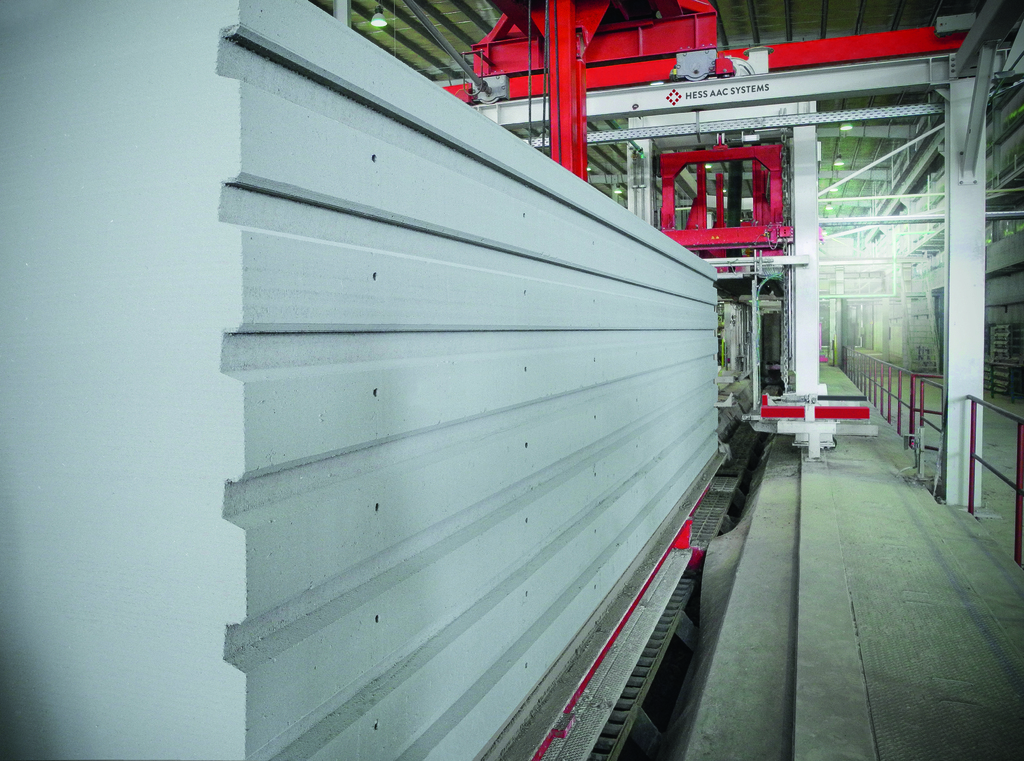 HESS AAC SYSTEMS is a worldwide leading supplier of plants and services for the production and finishing of autoclaved aerated concrete (AAC) products. The company stands for the low cost of ownership through quality, specialized know-how, and flexibility in plant design and upgrades. Besides the design and delivery of production equipment, the company offers supporting services for a successful AAC business, with multiple service branches in close proximity to the customer. Experience the latest innovations for the AAC industry and live product demos daily at bauma 2022!
Our experts will welcome you to discuss the latest developments in AAC block and reinforced panel production and to explore the possibilities for your next project or upgrade! Visit our booth Nr. B1. 127 and learn more about how to establish a highly automated, reliable AAC production facility.
Booth B1. 127


HESS AAC Systems B.V.
Aluminiumsteden 10
7547 TN Enschede, The Netherlands
T +31 53460 1700
F +31 53460 1799
info@hess-aac.com
www.topwerk.com/hess-aac-systems
---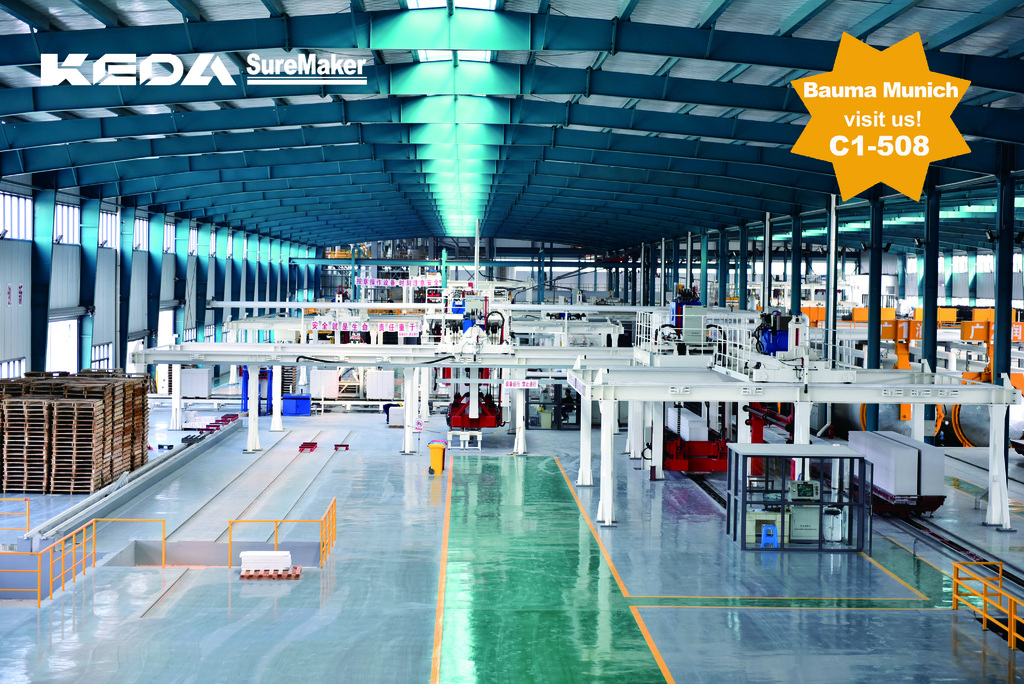 KEDA SUREMAKER (Anhui KEDA Industrial Co., Ltd) is a holistic autoclaved aerated concrete plant solution supplier from China, providing customers with customized service including production process and formula design, equipment R&D, manufacturing, plant engineering, personnel training, and operation management consulting, etc. In both Chinese market and the overseas AAC market, KEDA has demonstrated its strong momentum. Nowadays, the AAC plants powered by KEDA SUREMAKER have been distributed to Europe, Southeast Asia, the Middle East, South Asia, South America.
As the vice president unit of China Aerated Concrete Association and the associated member of European AAC Association, KEDA SUREMAKER is in charge of editing the China AAC industry standards and is committed to promoting the development of the worldwide AAC industry.
KEDA SUREMAKER Holistic AAC Plant Solution, make sure of your success.
Booth C1. 508
Keda Suremaker
2887, Tianmen Rd
Economic and Technological Development Zone
Maanshan City, Anhui Province, China
T +86 0555 2113600
info@keda-suremaker.com
---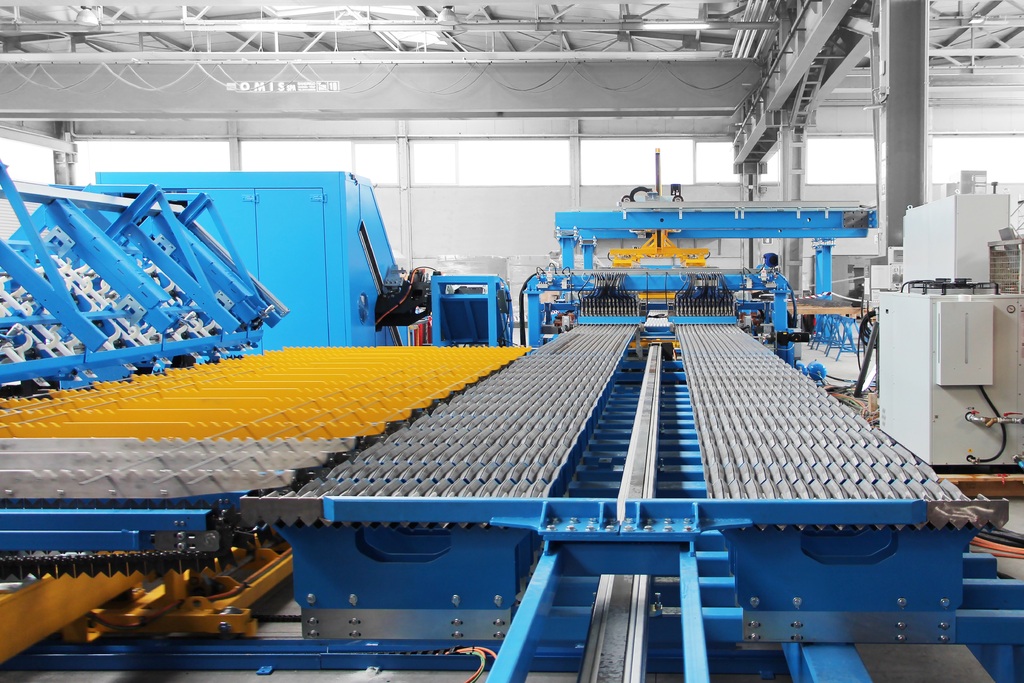 As a leading full-range supplier for the reinforcement industry we deliver the highest possible degree of automation in the machines and plants for manufacturing precast concrete elements. An increasing number of autoclaved aerated concrete elements are used in prefabricated construction, especially in industrial, residential and commercial construction. Autoclaved aerated concrete elements offer a simple solution for projects with high thermal insulation. As PROGRESS GROUP we offer the whole range of solutions, from the basic variant with straightening of the loose bars up to the fully automated version for the production of reinforcement cages including insertion and pre-buffering.
Meet our AAC-experts at the PROGRESS GROUP booth for reinforcement technology in hall C3.303 and learn more about our tailor-made equipment for the automation of the production process.
Booth C3. 303
Progress Maschinen & Automation AG
Julius-Durst-Str. 100
39042 Brixen (BZ), Italy
T +390 472 979 100
F +390 472 979 200
info@progress-m.com
---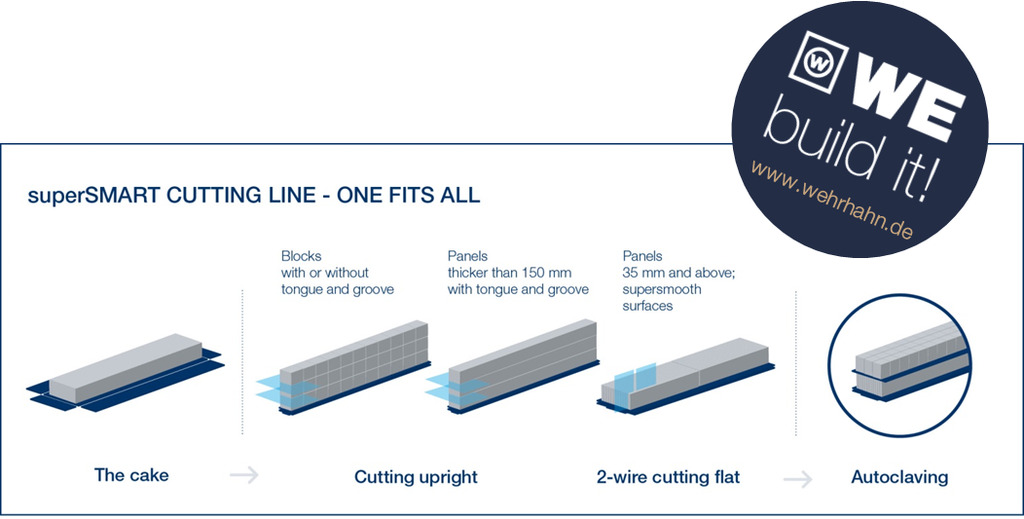 WEHRHAHN world premiere: The first combined cutting line for flat and upright AAC cakes. Both technologies integrated into a unique concept!
Years ago, flat cake cutting was common. Then, the technology nearly disappeared from the AAC market due to significant drawbacks. Rumours claimed it had become obsolete, manufacturers focused on upright cutting. Still, state-of-the-art upright cutting is the number 1 technology. In addition, flat cake cutting is used on a small scale for particular markets with distinct requirements, mainly to cut thin reinforced AAC panels or for applying supersmooth surfaces. The new "one-fits-all" WEHRHAHN cutting line combines both technologies to achieve a broad market coverage.
Even before tilt cutting became the ruling technology, WEHRHAHN had supplied flat cake cutting systems. The proven know-how is still available, has been further developed and after all incorporated in latest WEHRHAHN plants. As the only supplier worldwide, WEHRHAHN clients may benefit from a unique cutting line concept, offering the best of both worlds!
Meet our WEHRHAHN team (booth C1.339) to learn more about this new development and its benefits!
Booth C1. 339
Wehrhahn GmbH
Muehlenstr. 15
27753 Delmenhorst, Germany
T +49 4221 12710
mail@wehrhahn.de
www.wehrhahn.de