Circular Plastics Alliance, 1432 DK Aalsmeer, The Netherlands
Xella Netherlands switches to circular plastic pallets and saves 70 tons of CO2 annually
Loading...
According to a study by Hibin [1], the trade association of all building materials traders in the Netherlands, the wooden pallet is the most common one-way primary raw material in construction waste. During the Circular Packaging initiative meeting organized by Hibin on September 13, 2023, Xella Netherlands presented a sustainable initiative as a solution to this problem. Xella Netherlands is a forerunner in the construction industry that is now replacing wooden pallets with recyclable plastic pallets. The pallets are collected at the construction site using a digital return system and are reused, which reduces the administrative burden of the building materials trade.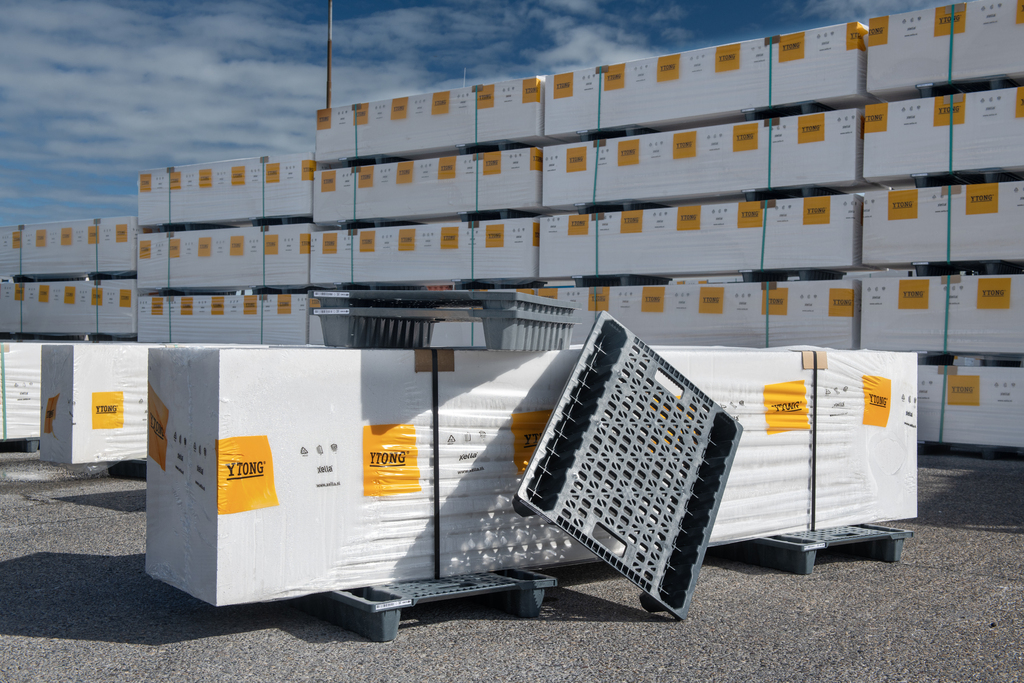 Research shows that Xella saves 70 tons of CO2 emissions annually by switching to plastic pallets. According to Jeroen van Heerwaarden, Xella's commercial director, the company in Vuren is thus demonstrating its sustainability ambitions. "We are not waiting for legislation or other parties to find out how we can take steps. As Xella, we take our responsibility and take the initiative to lead the way in the field of sustainability and circularity. We consciously invest in, for example, transparent packaging film with minimal printing, but now also in return pallets made of recyclable plastic."
The production and complete logistics of these recyclable plastic pallets are in the hands of Circular Plastics Alliance. The organization strives for a closed circuit of sustainable packaging. To this end, CPA has initiated various project groups of companies with the same vision on entrepreneurship and sustainability. In one of these projects, Xella took the initiative two years ago to investigate the feasibility of the plastic pallet. According to Johan Thans, Director of Circular Plastics Alliance, this has created a plastic alternative to traditional one-way wooden packaging. "We have run several pilots with Xella so that we now have a fully tested product that can easily withstand a load of 3,500 kg, can be stored outside and can withstand the heavy demands of construction work. In addition, we have a unique logistics concept with controlled returns and quality control, which means that Xella always has good pallets that can be continuously reused."
Circular Plastics has developed various sustainable circular packaging and transport solutions that make an impressive contribution to ecology, or the CO2 footprint, with less environmental impact and less one-time use of scarce raw materials.
Circular Plastics focuses on permanent innovation with the circular economy at the forefront. The company designs and produces sustainable plastic packaging solutions within a closed loop. Circular Plastics offers expertise in all areas from recycling to logistics pooling services.
During implementation, the company works closely with its project partners. A common goal and a common benefit are defined with them that applies to both partners.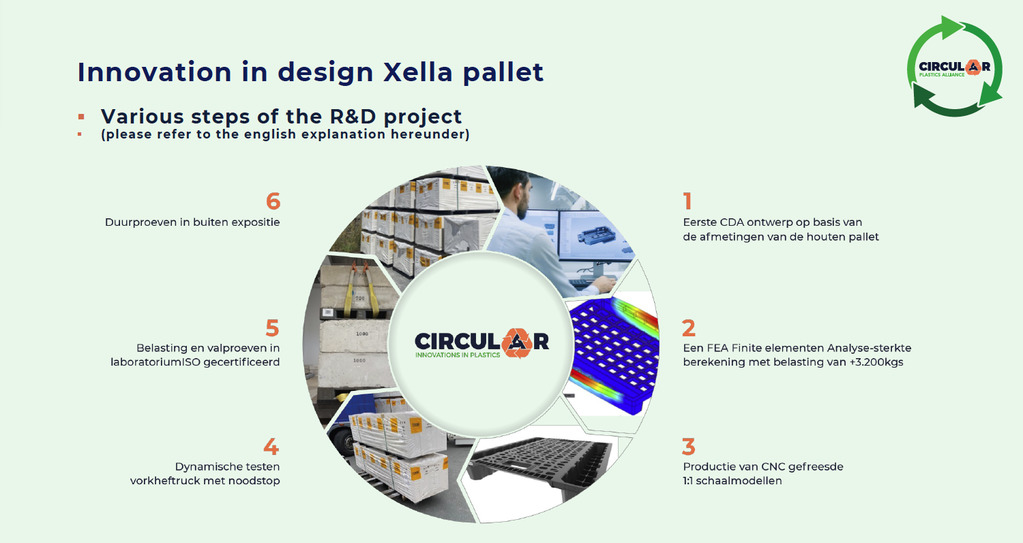 1. CAD (Computer Aided Design) based on a drawing of the existing wooden pallet: the starting point for the design was the dimensions of the current wooden pallets. This is to guarantee efficient processing throughout the entire logistics chain with minimal adjustments to handling equipment. The additional wishes were aimed at a 33% lighter weight, a long lifespan and a positive impact on the CO2 footprint.
2. An FEA Finite Element Analysis; The pallets are loaded with 800 kg in outdoor storage under the influence of high and low temperatures and stacked up to 5 layers high. These situations are programmed and simulated via a computer-controlled strength calculation with a load of 3,500 kg. This then indicates where possible weak spots arise in the pallet, which must then be optimized in terms of strength in the original design by applying extra ribs or extra wall thickness of the plastic.
3. Production of CNC milled 1:1 scale models If the basic design has been approved by the customer on the drawing, CP produces in-house with advanced milling robots from a solid thick plastic sheet a test model on a 1:1 scale that can run on the packaging lines. can be loaded with 3,200 kgs and can be transported by forklift. The experiences with these practical tests provide information to re-optimize the design.
4. Dynamic testing of a forklift truck with emergency stop. In addition to environmental care, safety is an important part of the Xella vision within CSR (Corporate Social Responsibility). Tests have been carried out with the test models at various Xella locations, with the forklift making an emergency stop from a speed of 15-20 km. The 2 layers must not slide off the forks and the top package must not fall off the bottom package. In addition, the foil of the packages must not be damaged. Ultimately, CP, together with the manufacturer Cabka, created an innovative patented solution to prevent the packages from sliding and thus ensure maximum safety for the staff.
5. Load and drop tests in laboratory ISO certified, once all calculations in the computer and with the milled models have been completed, a steel mold is ordered. The production of this mold takes 6 months and costs Euro 400,000. The plastic is heated as a granule to a liquid mass and injected into the mold at a temperature of 220 degrees and then cooled. Every 45 seconds a product is produced that has a guaranteed lifespan of 5 years. To test the extra heavy handling in construction on the pallet, ISO certified drop tests are used 6 times from a height of 3 meters, whereby the pallet must not tear. Static loads with concrete blocks of up to 5,000 kg are also used in our laboratory as part of the test protocol.
6. Endurance tests in outdoor exhibition After all this preparation, a pilot phase follows in which series of 4,000 pallets are used in practice within Xella's entire logistics process and are also physically monitored via Tracking and Tracing. This is done by using RFID and bar and QR codes whereby CP can track the pallet throughout the entire logistics process via its own developed blockchain technology. The additional database collected from scanning provides Xella with data that can be used to organize and manage the logistics process even more efficiently in the future.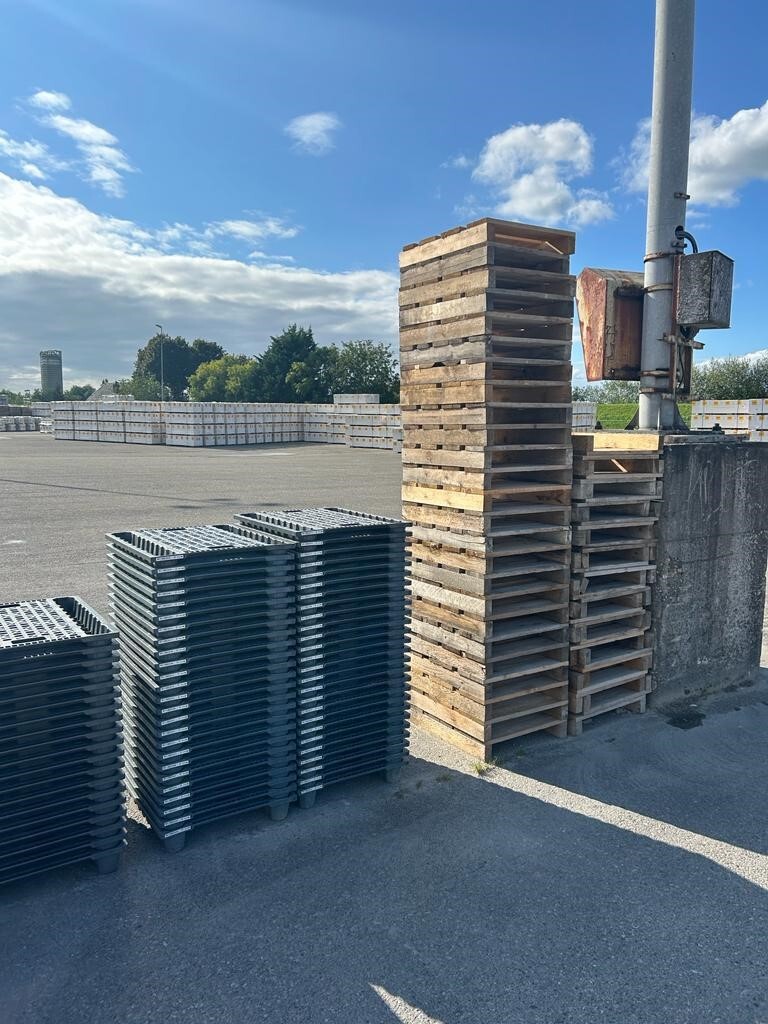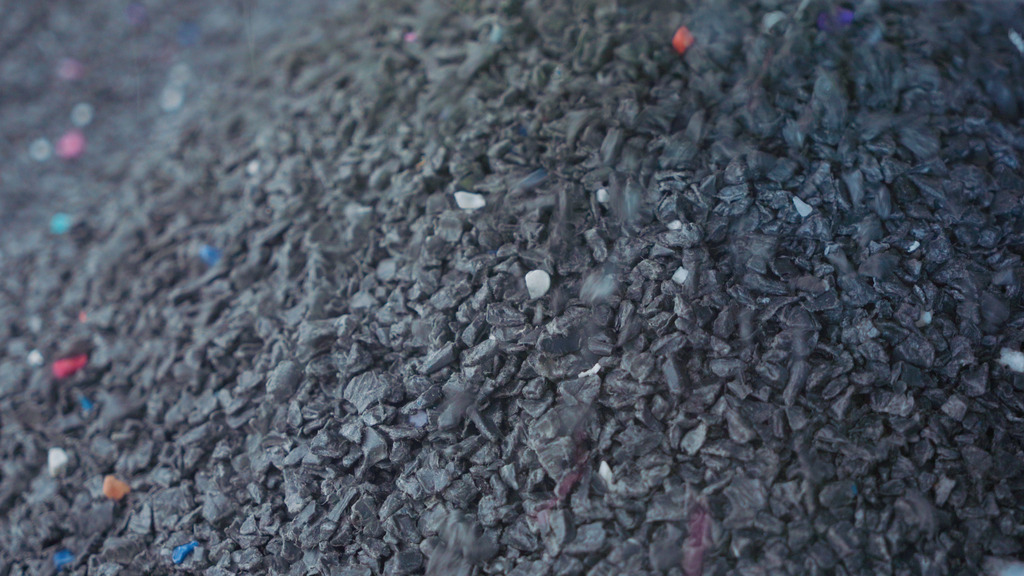 [1] https://www.hibin.nl/ , https://www.hibin.nl/nieuws/nieuwsbericht/grote-opkomst-evenement-initiatief-circulaire-verpakkingen
Circular Plastics Alliance
Japanlaan 5-7
1432 DK Aalsmeer
Netherlands
+31 297 380300