HESS AAC Systems B.V., 7547 TN Enschede, The Netherlands
Brimax AAC – an Indian lighthouse project
Loading...
Hess AAC Systems has a long presence in the Indian market with four plants running at Ultratech Ltd. (near Mumbai & Hyderabad), JK Lakshmi Cement Ltd. (near New Delhi), and UAL Industries Ltd. (near Kolkata). This project is considered a re-entry to Indian market.
Preface

Technology has changed how we think, work, and live. It instigates a fresh approach to introduce new-age, better, and innovative future-ready solutions.
One such product is Autoclaved Aerated Concrete Blocks – AAC Blocks. Over the last decade, this green and non-toxic building construction material has emerged as a preferred choice over red bricks due to its unique combination and superior build properties like strength, low weight, thermal insulation, sound absorption, and unrivalled fire resistance, and economical. Thanks to its unmatched buildability, it emerged as the future of building construction.
India Opportunity

India is the second largest block manufacturer in the world after China. Indian block Industry is almost entirely unorganised, characterised by many small players competing at the regional level, having around 150-180 plants for AAC blocks.
Despite the high growth of AAC block in building applications during the last decade, it is only 7-8 per cent of the industry, while 85-90 per cent of the industry is still dominated by red bricks, which means enormous potential in the years to come.
The global autoclaved aerated concrete market size is expected to reach USD 28.41 Billion at a steady CAGR of 5.3 per cent in 2028, according to the latest analysis by Emergen Research. According to a recent report, the Indian AAC blocks market is anticipated to register a CAGR of 14.3 per cent during 2020-27 to reach USD 13,420 million.
A large number of integrated townships, mass housings (for urban poor, slum rehabilitation etc.), IT/ITES parks, High rise buildings and SEZs' are commonly seen these days with AAC blocks, and the growth in the segment will only increase exponentially in the years to come.
The Indian market well accepts AAC blocks. Its use will grow stupendously in the coming years owing to increased awareness amongst the builders and architects about the several beneficial attributes of AAC blocks over red clay and fly ash bricks. Shortage of urban labour and high interest costs have forced developers and construction companies to look for faster and more efficient building materials.
India is likely to witness an investment of around USD 1.3 trillion in housing over the next seven years, during which it is likely to witness the construction of 60 million new homes. The union cabinet has also extended the validity of the PMAY-Gramin programme till March 31, 2024, to achieve the target of constructing 22.50 Million houses.
Brimax AAC Products LLP

Brimax is part of Shreenath Group, Vadodara, India which has recently ventured into the AAC block business and joined hand with Hess AAC Systems. Shreenath Group is a leading Real Estate Developer in Vadodara and the biggest red brick manufacturer in Gujarat. In the coming time, the company plans to launch products, including ALC panels, tile adhesives, gypsum plaster, and other construction chemicals. The company has the vision to become the largest manufacturer of AAC blocks and panels in Western India in the next 3-4 years.
The project has already kickstarted, and the foundation drawings and other technical documentation are under preparation. The land has been registered recently and civil work has started.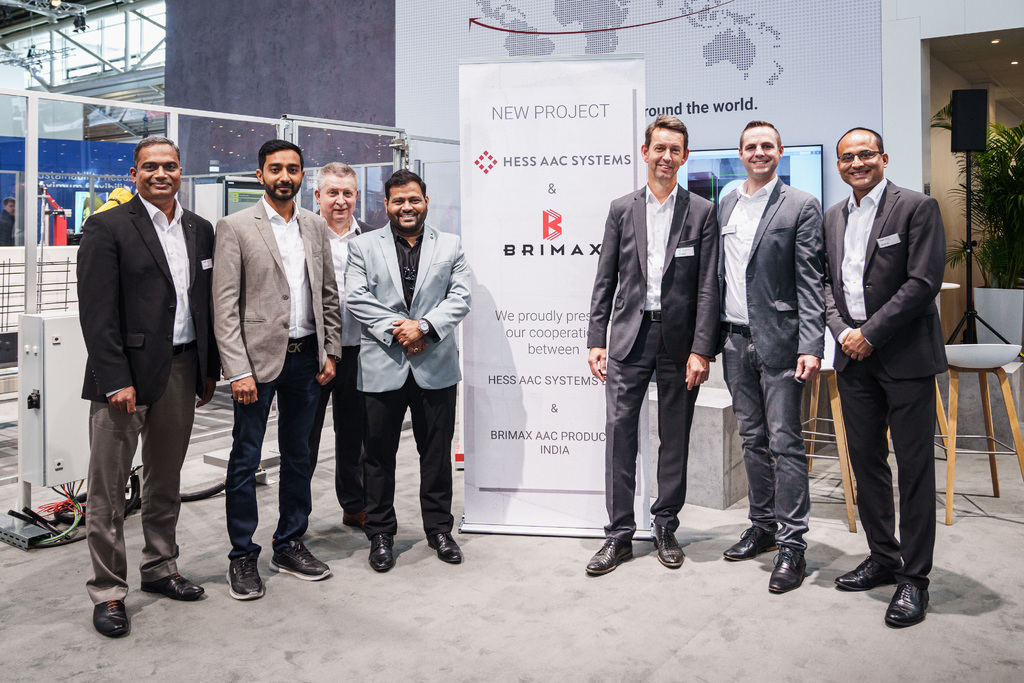 HESS AAC Systems B.V.
Aluminiumsteden 10
7547 TN Enschede
Netherlands
+31 53460 1700